Tap on the email, then navigate to the quadrant you would like to drop the task in, and tap once. Select "yes"-          
The email's subject will be shown as task name and email's content will be shown under notes. All attachments can be found under files – 
If you want to open the original email, open the task, then click "open in mail".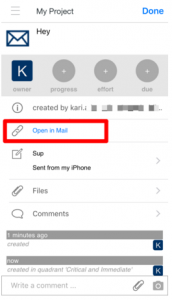 If you would like to forward an email from your personal inbox on iPad into Priority Matrix, please check this article .