Priority Matrix is a powerful task management tool that allows users to prioritize their work based on urgency and importance. One of the many features of Priority Matrix is the ability to export a project as a .CSV file. Exporting your project in this format enables you to view and manipulate your data in other applications like Excel, Google Sheets, or Apple Numbers. In this article, we'll guide you through the process step by step.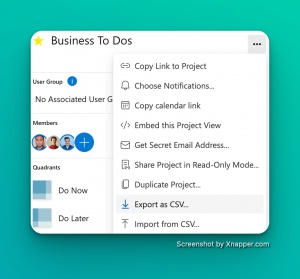 Step-by-Step Guide:
Access the Project Options:

Locate the project to be exported at the top of the Priority Matrix interface.
Click on the three-dot menu (often referred to as the "ellipsis" or "more options" icon) on the top right corner. This will open a dropdown menu with various options.

Choose the Export Option:

In the dropdown menu, scroll down until you find the option that says "Export as CSV."
Click on "Export as CSV." This will prompt the software to prepare your project data for export.

Select Save Location:

After clicking "Export as CSV", a dialog box will appear, asking you where you'd like to save the .CSV file.
Choose your desired location on your computer or device and click "Save."

Open the .CSV File:

Navigate to the location where you saved the .CSV file.
Double-click on the file to open it in your default CSV reader, or right-click and choose the specific program you'd like to use.
Tips:
Before exporting, ensure that all the data you want to export is correctly entered and updated in the Priority Matrix project.
Once you've exported the data, you can easily share it with team members, stakeholders, or import it into other tools for further analysis.
Always backup your .CSV files in a safe location to avoid data loss.
In conclusion, exporting your Priority Matrix project as a .CSV file is a straightforward process that allows for more flexibility in data analysis and sharing. By following these simple steps, you can seamlessly transfer your project data to other platforms and tools.