If you use Microsoft login to access Priority Matrix, you may have noticed that at some point the system will ask you to grant read-only access to various elements of your Microsoft and Office account. The specific view will look similar to the one below.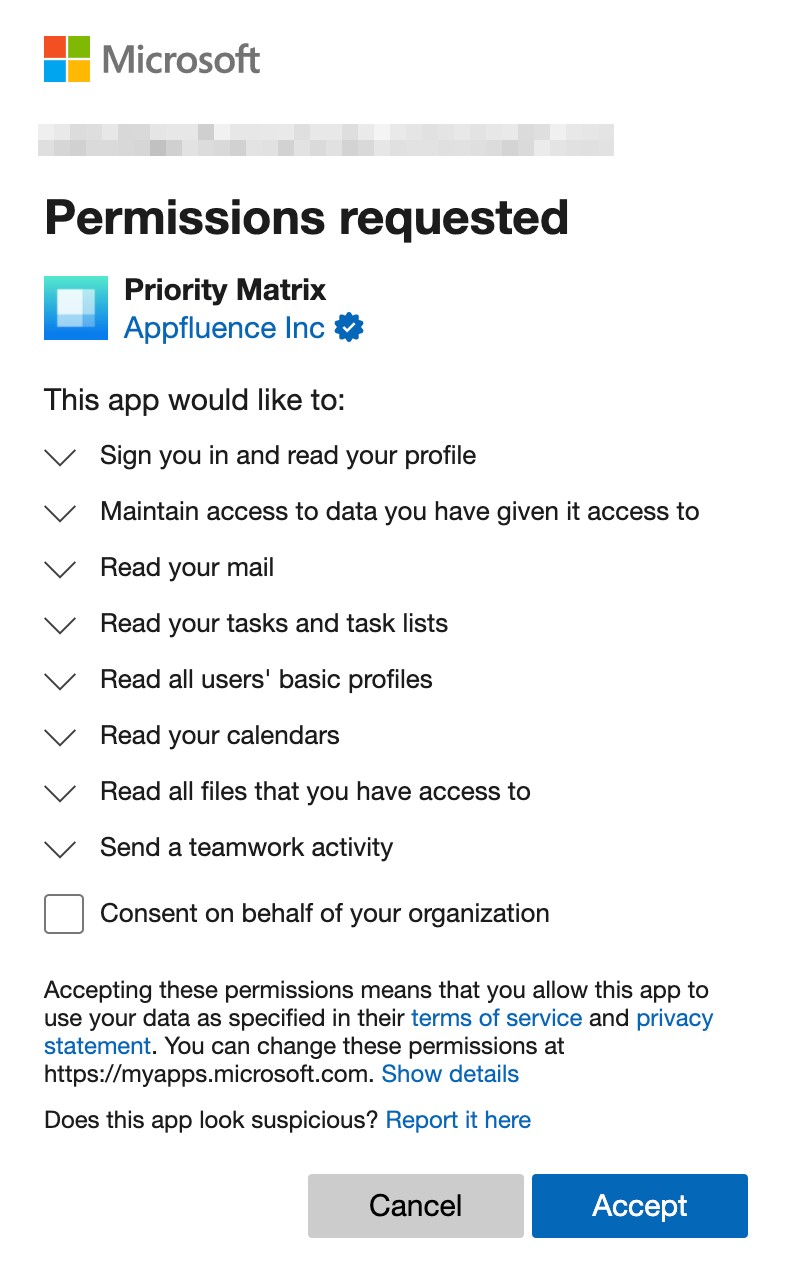 What are those permissions for?
You may be wondering what's the purpose of these requests, and the short answer is that we require those permissions in order to make your Priority Matrix experience more powerful. The long answer is that we use access to the requested data for the following reasons:
When we address you in our communications, or when we mention your collaborators, it's useful to have your first and last name, as well as your email address.
When you first start using Priority Matrix, we prepare a set of automatically prepopulated projects, so you can experience the system without having to spend much effort setting it up. To do that, we request access to your tasks and task lists, as well as your calendars.
When you use the search view, and the one-on-one view, we show you documents, events and messages that you have in common with your collaborator. Thanks to this access, we can make your meetings much more effective.
When you sign up for an account, having access to your collaborators makes it much easier to set up your team with the right members. We make it possible to just "click to add" team members, instead of asking you to type their full email addresses.
When one of your collaborators makes a relevant change to your Priority Matrix data, we want to be able to tell you about it directly in the Microsoft Teams activity feed. That way you won't miss anything important.
We treat your data right
As you see, most of these features require read-only access to your data, which means that Priority Matrix can only read, but not modify your data. Additionally, we do not store most of this information, and instead we just show it dynamically as needed. If you revoke the granted permission, our system will not be able to access your data anymore. For more specific information about how we treat your data, please see our privacy policy.
Finally, we are happy to report that we are the first task and project management solution to achieve the Microsoft 365 Security certification. You can see the "Microsoft 365 certified" badge in our Outlook, Teams and web app, indicating that Microsoft verified that we provide assurance and confidence to your organization that data and privacy are adequately secured and protected when using our apps.
Simplifying access for your team
If you are an administrator for your Microsoft account, you can elect to check the button labeled "Consent on behalf of your organization", indicating that every user in your company domain will be automatically granting the permissions above. This helps a lot when onboarding new team members, so that they can start benefitting from the system from the first minute.