Calendars are perfect tools for busy people who always need to stay on top of their tasks and responsibilities. That's why many property managers use calendars for their rental estates. This way they can keep track of everything they need to do and when they need to do it.
A property manager's job is very time-centric. Collecting rent, keeping track of lease contract due dates, finding new tenants (especially on short-term leases), managing inspections, cleaning services, or tenant screening… These are all standard day-to-day tasks that property managers do and all have to be perfectly coordinated in time.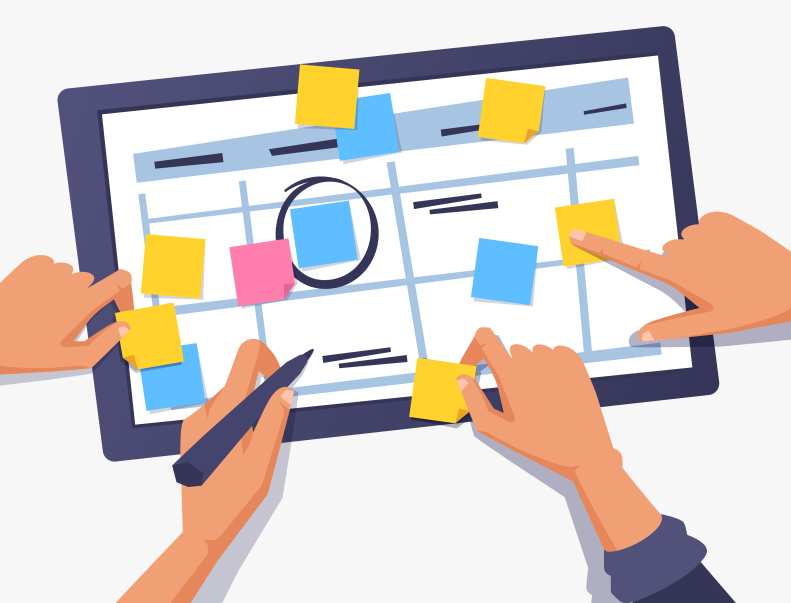 Calendars are great to keep every appointment and property management task organized. On Priority Matrix we know how important calendars are. So we made it possible for you to manage all your tasks and projects (or properties) using our Calendar View.
In our article on the Best Property Management Templates, we showed you how Priority matrix can help property managers be more efficient and coordinated with their team. All you need are our two basic project templates:
Property Dashboard Project to have all of them organized in one same place
Property Task Project for everything you need to manage each property
You can learn more about how Priority Matrix projects work and how to take advantage of them on Priority Matrix basics for Property Managers.
So, How Can You Manage Your Rentals Using Our Calendar?
You've already assembled your Property projects and written down your tasks, appointments, and other items you wanted to add. If you don't yet work with Priority Matrix, check out how it can help you here! Now, there are two different ways to use the Calendar on Priority Matrix:
Managing One Rental Property
You can simply click on the Calendar view icon on top of any of your Property Tasks Projects to see all your items laid out on the calendar.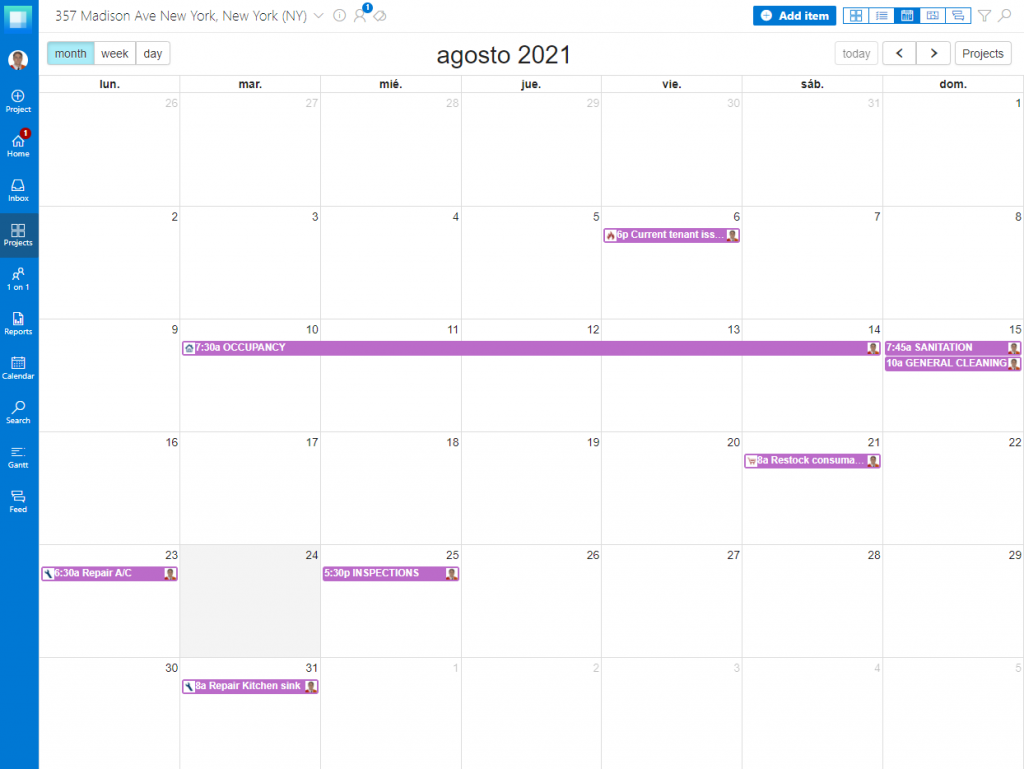 Go ahead and start operating directly from the calendar by clicking on any date to add items. Itmes can be anything you want: tasks, documents, appointments, or any sort of issue or information. This way you can use your project the same way you would use any agenda, with all the benefits Priority Matrix has to offer.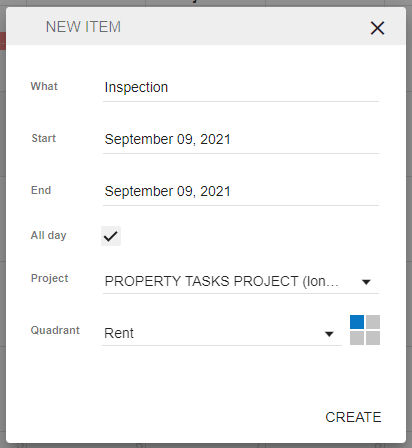 Name the item on the first line for "What"
The date you click on will be the "Start" and "End" date by default, but you can change due dates or set it for several days easily!
You can select "All day" or set a specific time for each Start and End date
The Project is the one you're working on by default, but you can choose any project you want! All projects are connected under the calendar, you're just viewing the items for one of the properties (projects)
Choose which quadrant you want to include the item on – keep your items well organized!
Once you've created the item it'll appear on the Calendar and the project you associated it with. You can click on any item on the Calendar to see its control panel – all information and features will appear there – learn more about items here!
---
What about Property Dashboard Projects?
For Property Dashboard Projects we recommend you set due dates for each of the Property Items to mark the Start and End dates of the lease contracts for each property. Dashboard Projects' only objective is acting as a link to each one of the Property Tasks Projects. Each item is a property you manage. This means this Calendar view is perfect to see a compound of all your lease contracts.
---
That's it! That is how easy it is to keep all your tasks or time-related information about a rental property in one same place and easy to view and update.
Now you have an easy way to organize, prioritize and coordinate work all in one online source that you can share with teammates or coworkers.
But how do you align the tasks for different properties to efficiently manage all your work?
Managing All Rental Properties on your Calendar
As I said before, all projects are connected under the calendar. All items from all your Property Management Projects can be viewed in chronological order according to due dates. They can all come together under the same Calendar. This way you have access to all projects and tasks in the same place. Learn how to manage your Overall Priority Matrix Calendar here!
To access this Calendar click on "Calendar" on the Priority Matrix vertical toolbar on the left-hand side of your screen. This is what you'll see: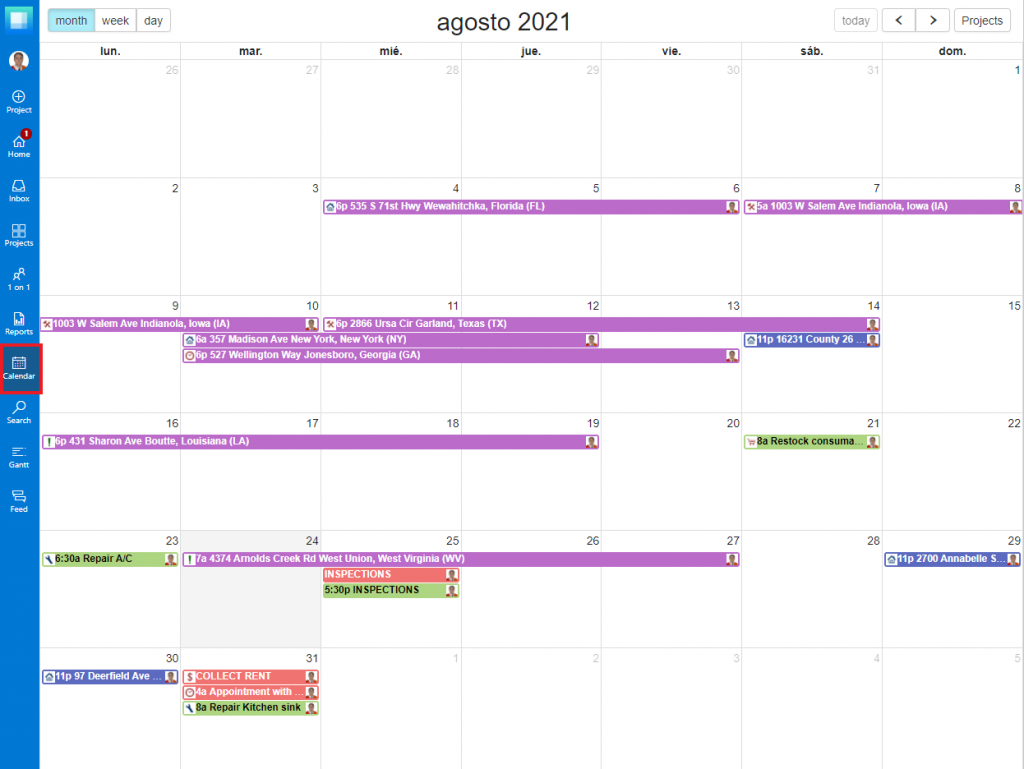 On this Calendar, you'll see all your items with due dates, and it operates just like the Calendar view we saw earlier. In fact, it's the same calendar, you were just "choosing" to filter the items to just see the ones on the Property Management project you had open.
You can also filter and customize the view for the items and Projects. Hit "Projects" on the top right corner of the Calendar and select which projects you want to see and the color you want their items to be.
Now you know how to Manage your Rental Properties with Priority Matrix and how to take advantage of our Calendar views! If you want to learn more about how to use Priority Matrix as a Property Manager click here.