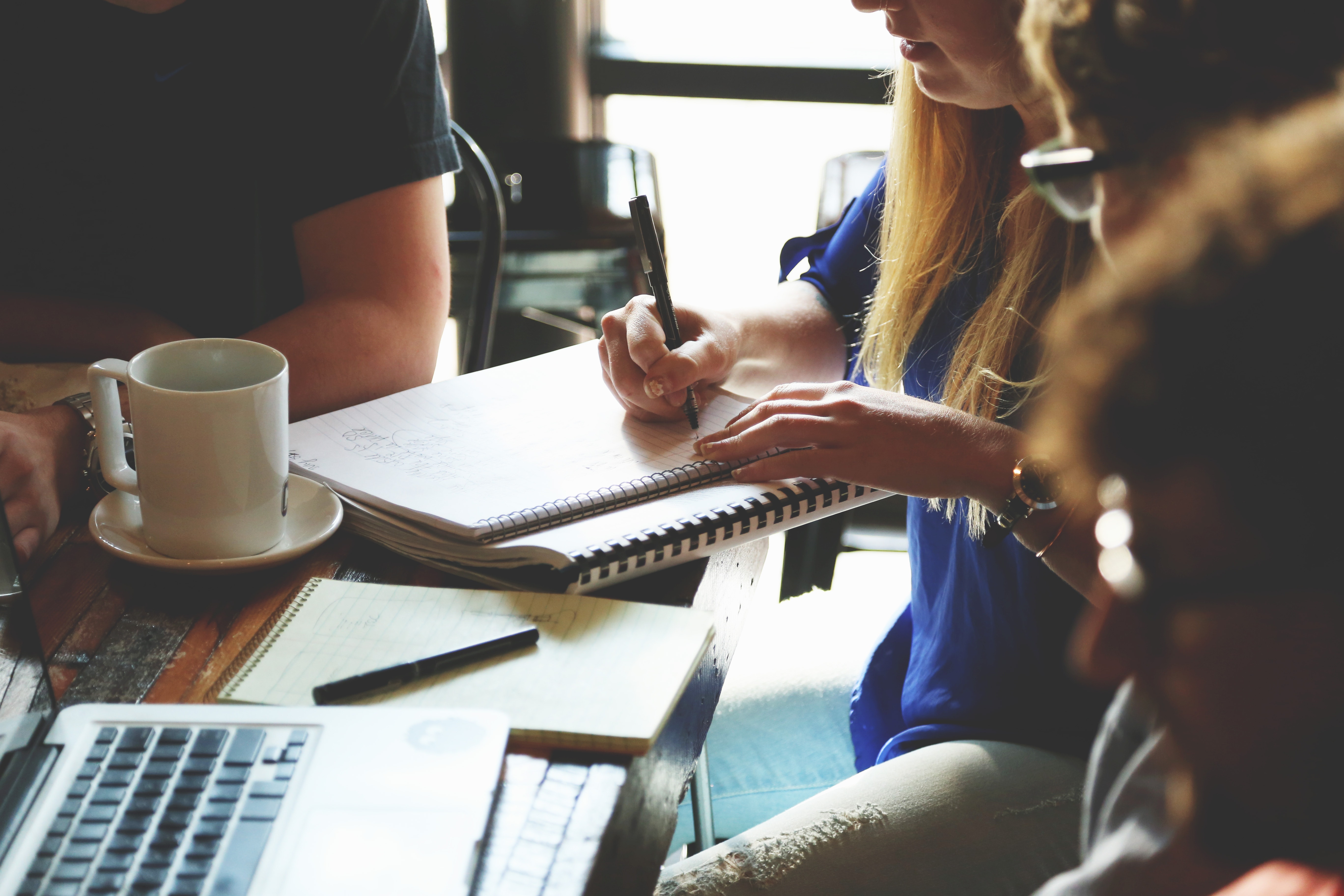 Nerve Wracking Task or Productivity Resource?
The minutes of the meeting, or MoM are defined as the instant written record of a session. Not only are the minutes kept for governance, but they also allow everyone at the meeting to focus on the topics at hand rather than worry about taking down notes. Depending on the type of meeting and organization, there might be a specific format necessary but, despite this, one things remains true: those tasked with taking the minutes of a meeting carry a great responsibility and must give their utmost attention to the job. In very official meetings or proceedings, typists typically use short hand, writing up the minutes later on. If you do not know shorthand and find the task of taking the minutes daunting, don't worry! You can still carry out this responsibility with flying colors. Here are some suggestions below.
1. Work off the Agenda
It really helps to use the agenda as a framework when taking notes during a meeting. This way, you don't have to worry about writing a heading for each topic and can instead focus on getting the information down. In this article we discussed creating a killer meeting agenda in Priority Matrix. With the agenda items set out already, you can take notes for the minutes by writing comments in the conversation box like so: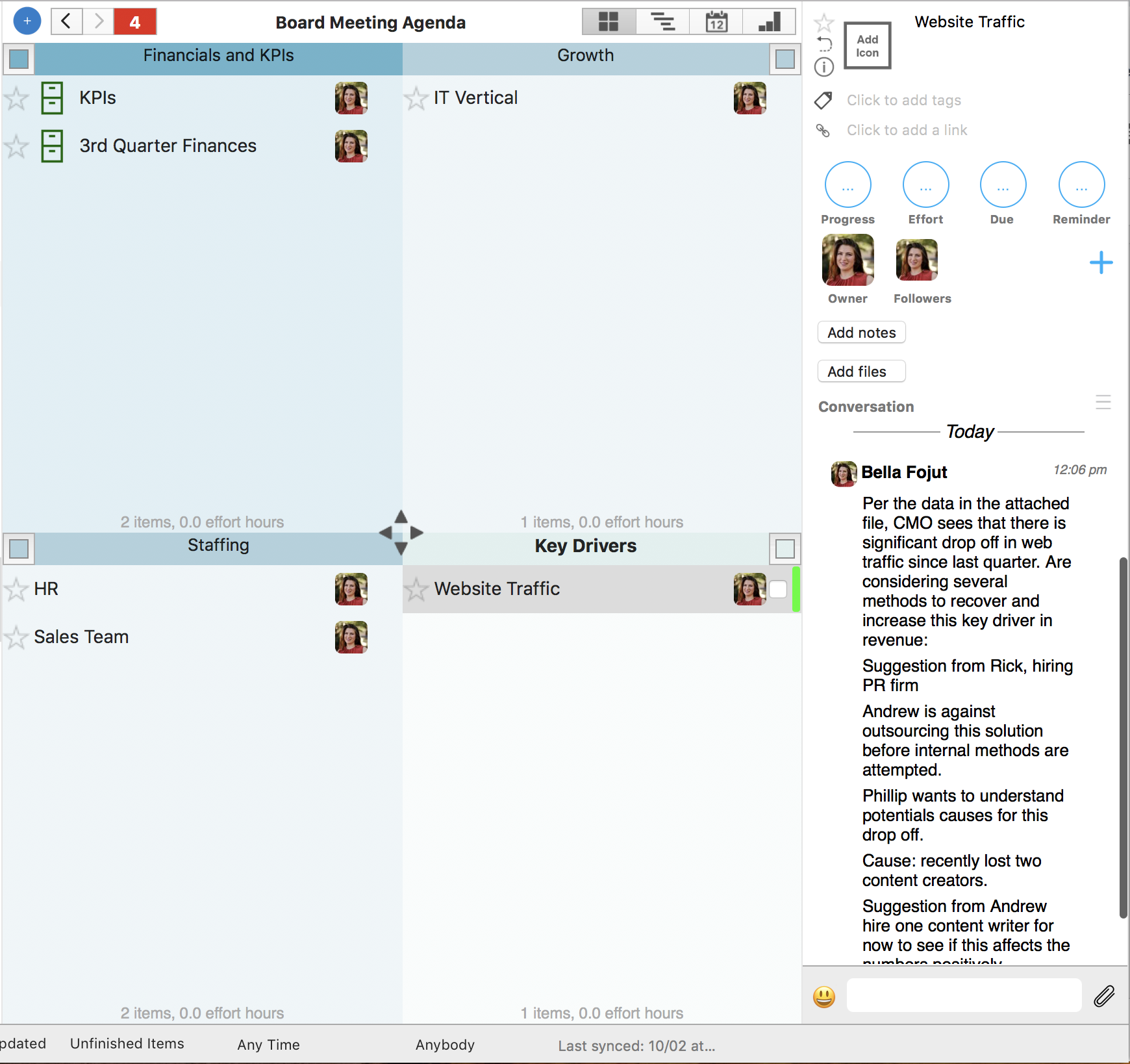 Because Priority Matrix tracks the time, you do not have to worry about noting down when the discussion of a topic began. As you can see, it is already recorded for you.
2. Create an Item for Each Point
If you are not currently using Priority Matrix for your meeting agenda, you can still use a project to take down your notes: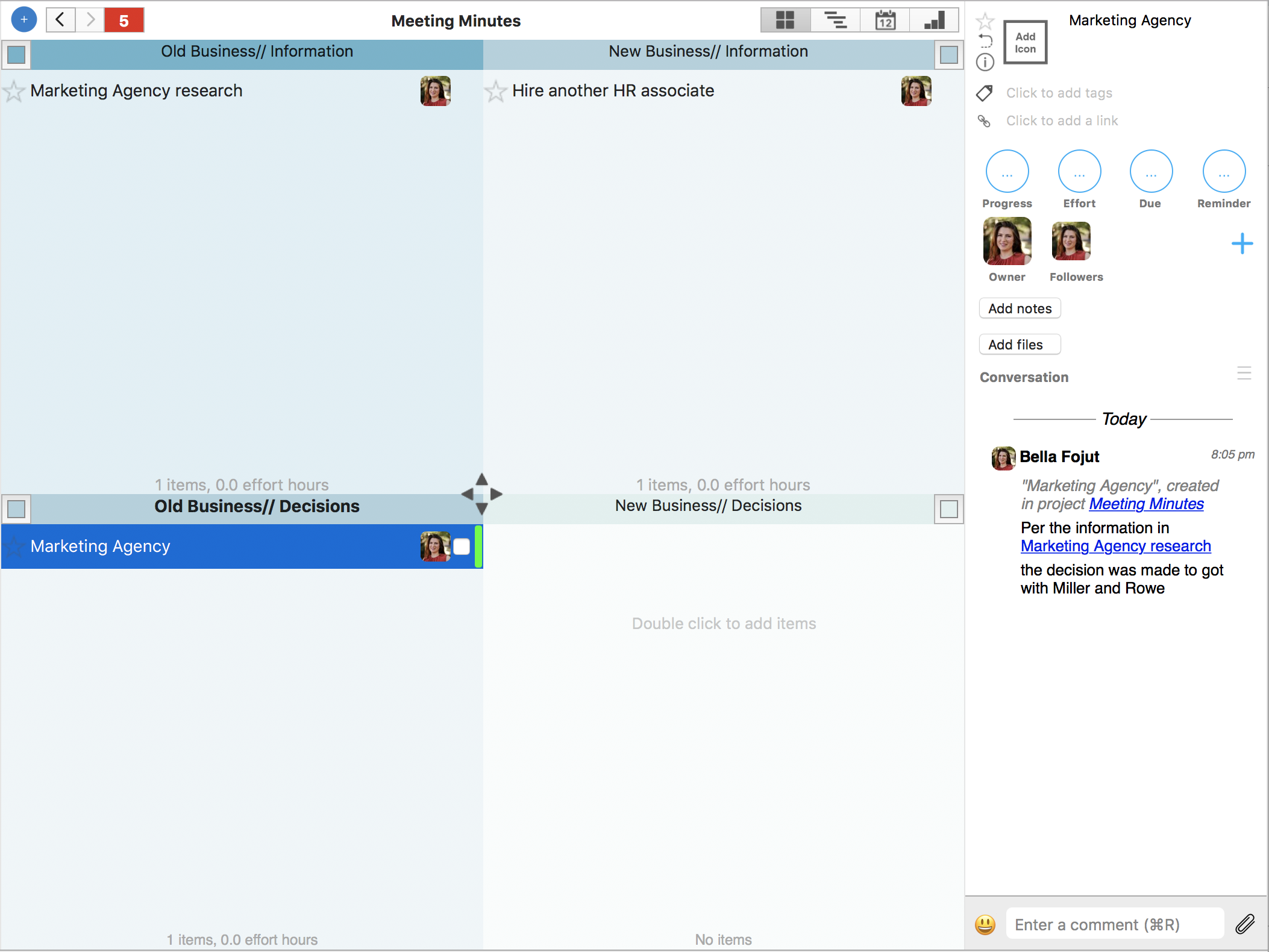 Import the meeting minutes template here.
The format of the project is categorized based on whether a meeting item is an instance of information sharing or a decision taken. The framework also distinguishes between old and new business.
As with the Agenda project Priority Matrix tracks the time that the item is first created. When writing up the minutes, you can refer to your notes and the time to accurately portray the series of topics and events the occurred. Of course, part of taking the minutes involves noting down attendance and other introductory details. This can be done in the project notes section: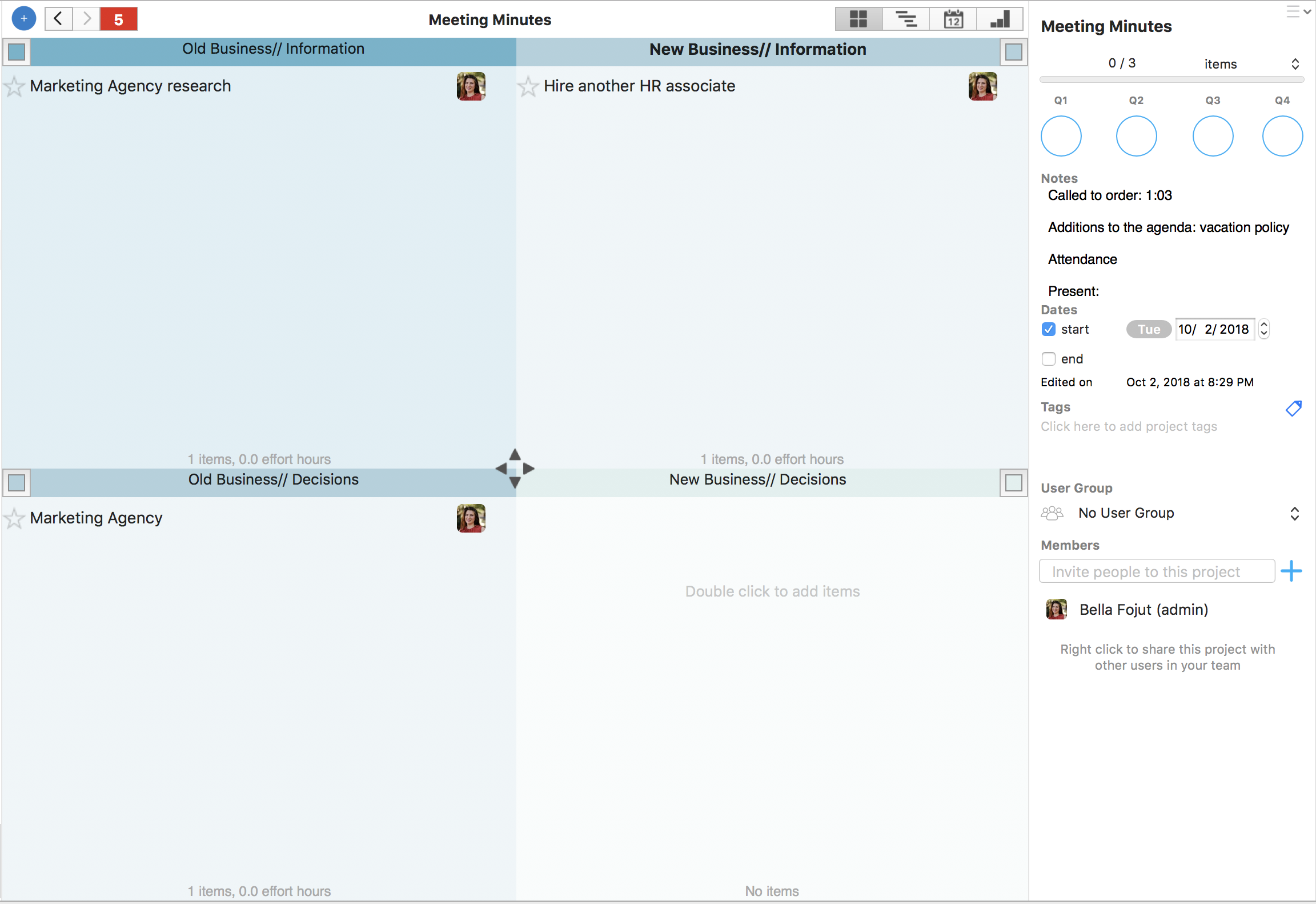 Keep Your Minutes Digital
Formerly sacred conventions are being changed in favor of increased communication. As an example, Netflix opted for an online memo instead of a board book. Meeting minutes could also do with a digital transformation and many companies are taking heed. Sharing the meeting minutes in a digital format that is easier to engage with is one way to get more out of your meetings. Rather than using Priority Matrix to refer to when creating your minutes write up, you can also simply create and share a minutes project with all your documentation or update your digital agenda, transforming it into an interactive meeting record. You can use the item notes to write a concise description of a decision, referring to the comment notes that you wrote during the meeting. You can use the format shared above or create and save your own template.
Conclusion
With updated tools and innovative thinking, you can change minute taking from a nerve-racking experience to a rewarding responsibility. With additional format changes, you can encourage meeting members to get even more benefit from the minutes afterwards!
Watch this video on the topic: