WORKLOAD MANAGEMENT TOOL FOR TEAMS
Microsoft selects Priority Matrix for Outlook as Editor's Choice!

Turn emails into tasks: Convert email messages into Priority Matrix tasks along with due dates and reminders so you'd never forget to take actions
Attach new emails to an existing task: Attach a new email to an existing task instead of creating duplicate tasks for your team
Delegate emails to team members: Delegate emails, set reminders, check status, and add due dates, effort, and notes all within Outlook
Works on Outlook for Web, Mac, Windows, and mobile: Sync emails across all your devices and apps, including Microsoft Teams, Priority Matrix, Outlook for Mobile, and so on
Pull up emails from Outlook into your Teams conversations Sync your Outlook emails into MS Teams using Priority Matrix for Teams
Priority Matrix uses the 4-quadrants method to help you focus on top priorities and projects. When you use Priority Matrix, you become more accountable to yourself, and ensure that you are spending time where it matters most. Priority Matrix is an intelligent project management solution that provides managers the visibility they need to manage more effectively. Know what team members are spending their time on, delegate new work with certainty, and maintain a balanced workload. Priority Matrix provides a number of ways to visualize your team's workload, through shared projects, calendars, and reports.
TRY FOR FREE WITH YOUR WORK EMAIL
Effective Workload Management Software
WORKLOAD VISIBILITY
Workload distribution among team members
Progress per item and per project
What's been done and what hasn't been done
Resource Distribution
Predict when teams and individuals will be busiest so you can redistribute workload
Proactively plan for peak times
Distribute workload more evenly across people or time
Track Team Workload
Real time data from daily and weekly tasks
See flow of resource and people to projects
Monitor individual contribution
Gain actionable insights
What is Priority Matrix®?
Conquer your most important day-to-day commitments
while keeping your high-level goals in mind.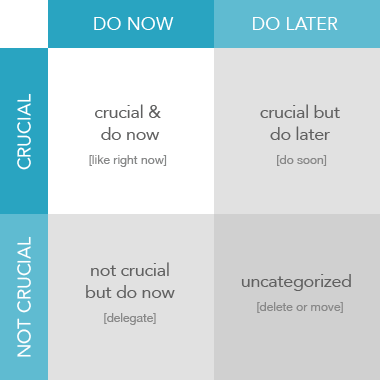 Over 90,000 busy professionals have invested in Priority Matrix® to help them prioritize and do more with less stress. Priority Matrix is a priority and task management tool based on the Eisenhower method. Your tasks are divided into 4 customizable quadrants:
Critical & Immediate- Important tasks that are due now
Critical & Not Immediate- Important tasks needs planning
Not Critical & Immediate- External responsibilities that can be delegated
Uncategorized Inbox- Miscellaneous items that can be categorized later
President Dwight D. Eisenhower once said "What is important is seldom urgent, and what is urgent is seldom important." Priority Matrix® is made to solve this problem in the same way Eisenhower did, and is a critically-acclaimed business and productivity tool that distinguishes itself from traditional linear to-do lists.
Thousands of Customers Trust Priority Matrix for Better Priority Management