30-60-90 Day Planning Template for Managers
The first 90 days: Managing a new team comes with plenty of challenges. However, these three months should also be seen as a great opportunity to make your mark and set yourself up to influence your team and command the respect of other managers in the organization.

A 30 60 90 day plan breaks the introductory period in a new job into manageable month long sprints with distinct goals and actions. The 30 60 90 day plan template for managers lays out these three sprints in Priority Matrix and helps you make sure that your first three months as manager lay the groundwork for the impact you plan to make in this leadership role. Read on to learn how to use the 30 60 90 day plan template.
Priority Matrix uses the 4-quadrants method to help you focus on top priorities and projects. When you use Priority Matrix, you become more accountable to yourself, and ensure that you are spending time where it matters most. With Priority Matrix for Office 365, you'll find far fewer distractions and context switching when managing tasks and projects.
Don't have Priority Matrix yet? TRY FOR FREE WITH YOUR WORK EMAIL
Project Management for Microsoft Office 365 with Priority Matrix
Turn emails into tasks, including any attachments
Never leave emails as unread or flagged again. Instead, convert relevant emails or attachments into tasks, along with due dates and reminders. Later, come back to the original message with one click.
Project Management for Office 365
Prioritize tasks with a complete project management solution with customizable 4-quadrants, calendar, Gantt Charts, and reports. Your data is synchronized between all your Priority Matrix apps and team members on IOS, Android, Windows, Mac, Web and your Office 365 integrations. It doesn't get any easier to manage projects!
Supercharge your MS Teams conversations
Share Outlook emails in your conversations with teammates. Also, talk to our AI-powered chatbot to get suggestions on what to do next, reminders of upcoming deadlines, updates on relevant projects, and so much more.
What is Priority Matrix®?
Conquer your most important day-to-day commitments
while keeping your high-level goals in mind.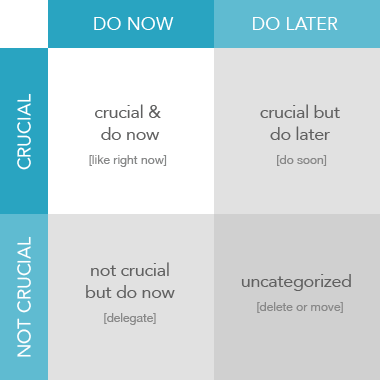 Over 90,000 busy professionals have invested in Priority Matrix® to help them prioritize and do more with less stress. Priority Matrix is a priority and task management tool based on the Eisenhower method. Your tasks are divided into 4 customizable quadrants:
Critical & Immediate- Important tasks that are due now
Critical & Not Immediate- Important tasks needs planning
Not Critical & Immediate- External responsibilities that can be delegated
Uncategorized Inbox- Miscellaneous items that can be categorized later
President Dwight D. Eisenhower once said "What is important is seldom urgent, and what is urgent is seldom important." Priority Matrix® is made to solve this problem in the same way Eisenhower did, and is a critically-acclaimed business and productivity tool that distinguishes itself from traditional linear to-do lists.
Thousands of Customers Trust Priority Matrix for Better Priority Management