What is the Eisenhower Method?
The Eisenhower method, also known as the Eisenhower Matrix or Eisenhower Box, is a method used to organize duties and tasks in order to figure out priorities.
The explanation of the Eisenhower Method/Eisenhower Box from Wikipedia:
"All tasks are evaluated using the criteria important/unimportant and urgent/not urgent and put in according quadrants. Tasks in unimportant/not urgent are dropped, tasks in important/urgent are done immediately and personally, tasks in unimportant/urgent are delegated and tasks in important/not urgent get an end date and are done personally. This method is said to have been used by US President Dwight D. Eisenhower, and is outlined in a quote attributed to him: What is important is seldom urgent and what is urgent is seldom important."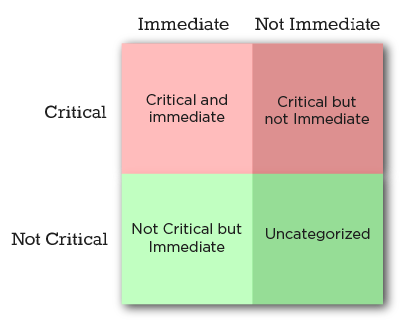 Urgent-Important Matrix
What's important to recognize is that we need to be able to separate the wheat from the chaff. If everything was important, then nothing is important. If everything was urgent, then nothing is urgent.
Eisenhower Matrix App
Priority Matrix's unique feature lets you do exactly what is said here as you can completely customize your organize method. Furthermore, we make it possible for you to put more emphasis (or screen space) to the more important tasks!
Learn more about how to use this 4-quadrant system to manage your time.
Learn more about the Eisenhower Matrix in Priority Matrix: