On the heels of our previous post (Making a status report with Priority Matrix), I just wanted to talk about different formats that you might use for an employee weekly status report template.
We've compiled a few templates from other sources below.
Before digging deeper, let's also review WHY you'd want to make a weekly status report. A recent article by the NY Times indicates that it is helpful to measure results, not hours. A weekly status report would provide the necessary update in a team environment. Here's a relevant excerpt:
"But it's not enough to think and observe. You need to communicate — often. Every week, write down a list of your assigned tasks — short-term assignments and long-term goals — and rank them by importance, from your perspective. Then ask your boss to weigh in on the list."
At Appfluence, we do daily reports as a way to achieve clarity for the team. While it is not mandatory, it is absolutely helpful to keep everyone updated to your road blocks, progress, and accomplishments. Here's a real screenshot of our daily send out. This is automatically generated by Priority Matrix, in this case on the Mac.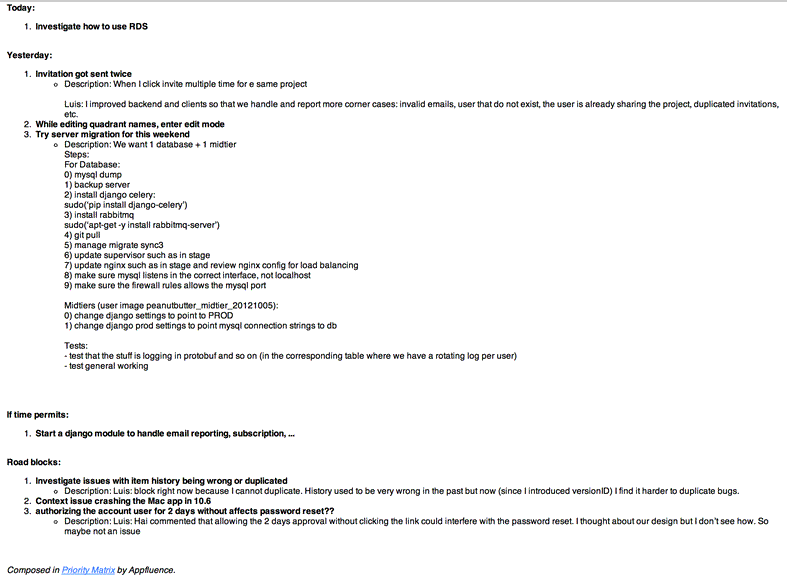 To get weekly status reports like these, try it out for yourself! Also, you can get a free weekly status report template as well as an explanation of the importance of weekly status reporting.
From the Northwestern University website, you can find the following weekly status report template:
——————————————————————————————
Weekly Status Report
To: __________
From: __________
Subject:
Status_______
Period Ending: __________
Self-assessment:
Green, Yellow, or Red_
Activities Completed this week
Completed deliverables:
Activities in process
Activities to be started next week
Long-term projects
Issues for immediate attention
Key team interdependencies
————————————————————————————
From the Microsoft Office website, here is a sample weekly status report template:
————————————————————————————
| | | | |
| --- | --- | --- | --- |
| Milestones | Planned Dates | Actual Dates | Comments |
| (example-Kickoff meeting) | (MM/DD/YYYY) | | |
| | (MM/DD/YYYY) | (MM/DD/YYYY) | (Delayed due to xyz, etc…) |
Accomplished this week:
Planned for next week:
Issues/Risks identified:
————————————————————————————
Here at Appfluence, we use the following simple bulleted lists to notify each other by email what we are individually working on.
————————————————————————————
Last week:
List the tasks you completed last week
This week:
List the tasks you plan to complete this week
Roadblocks:
Write down any obstacles or roadblocks that you might encounter/have already encountered
Comments/Questions:
Add comments or questions that may aid in conveying what you are doing to your intended audience.
————————————————————————————
Here is a Weekly Status Report template ready to use on Priority Matrix. Below are some sample action items as well, for inspiration:
Let us know if you have any weekly status report templates of your own! We would love to hear about ways people are staying productive and accomplishing tasks!
Learn more about status reports in Priority Matrix in this video:
Learn more about Priority Matrix for Windows, iPhone, iPad, and Mac.
Read Next: