You've probably heard about the SWOT analysis concept many times before but haven't applied it in practice. Today, we're making it easy to learn what it is and provide you templates to get started right away.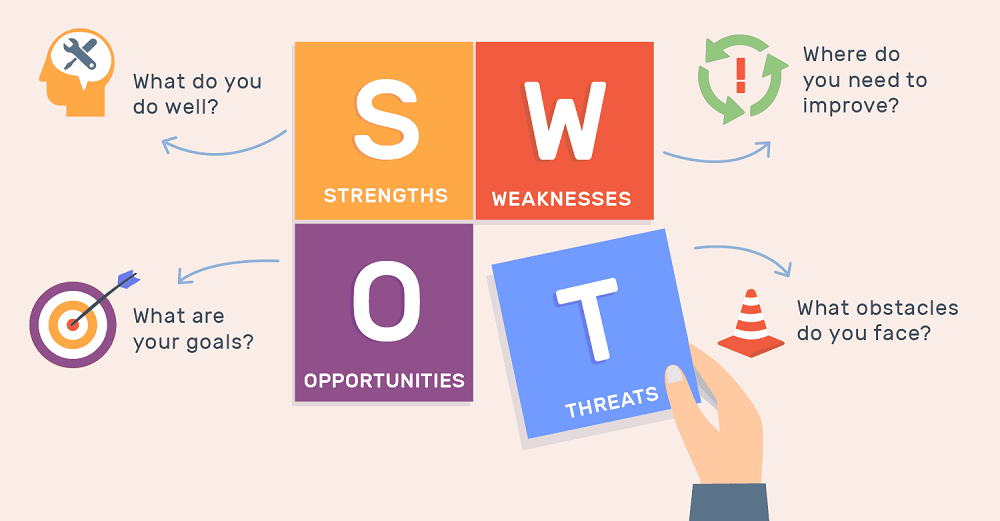 It's typically used as a framework study for a company's competitive position. However, SWOT analysis can be applied in many aspects of business and economics. It's a basic yet extremely useful tool to evaluate a company, organization, project, or strategy looking to be implemented. It's an overview of both external and internal circumstances that affect and mold the company, in the present and the foreseeable future.
To put it simply, it's meant to be a comprehensive study of reality (fact-based data). This is reflected in an organized list of key Strengths, Weaknesses, Opportunities, and Threats that affect whatever you're analyzing. In this sense, it's the perfect first step to take when planning a strategy or going through a decision-making process. A swot analysis will provide you with the assessment tools you need to move in the right direction.
In this article, you'll learn everything you need to know about the SWOT analysis: what it is, how to perform one successfully – what to look for and what to avoid – how to use it, its benefits and shortcomings, and how to take it one step further.
So, What is a SWOT analysis?
Definition: A SWOT analysis (Strengths, Weaknesses, Opportunities and Threats) is a basic strategic planning tool that helps you identify and visualize main internal and external factors that affect an organization, business, or project. The aim is to assess key issues and make the most out of your situation. You do this by understanding what you have, what you're lacking, what you can take advantage of, and what you should avoid.
For proper use of the SWOT analysis, we should understand it as a technique for assessing performance, competition, risk, and potentiality of a company or strategy under evaluation. To do this correctly we have to rely on data that shines a light on our current condition and environment. With it, you want to develop strategic plans that tackle difficult questions: what can we improve with the resources we have? how do we take advantage of them in our present state?
SWOT stands for Strengths, Weaknesses, Opportunities, and Threats. Factors are listed under these four categories to identify different aspects of reality and their effect on your organization. Strengths and weaknesses are internal to the organization so they may be managed directly by it. On the other hand, opportunities and threats are external factors, so the company can merely anticipate or react to them.
The analysis is usually presented as a 4 quadrant matrix, each one corresponding to the four categories mentioned above. It's a helpful visual representation for a better understanding of the company's position. However, this traditional SWOT analysis usually lacks preciseness; as in, what role does each of the factors play inside their quadrant? But more on that later…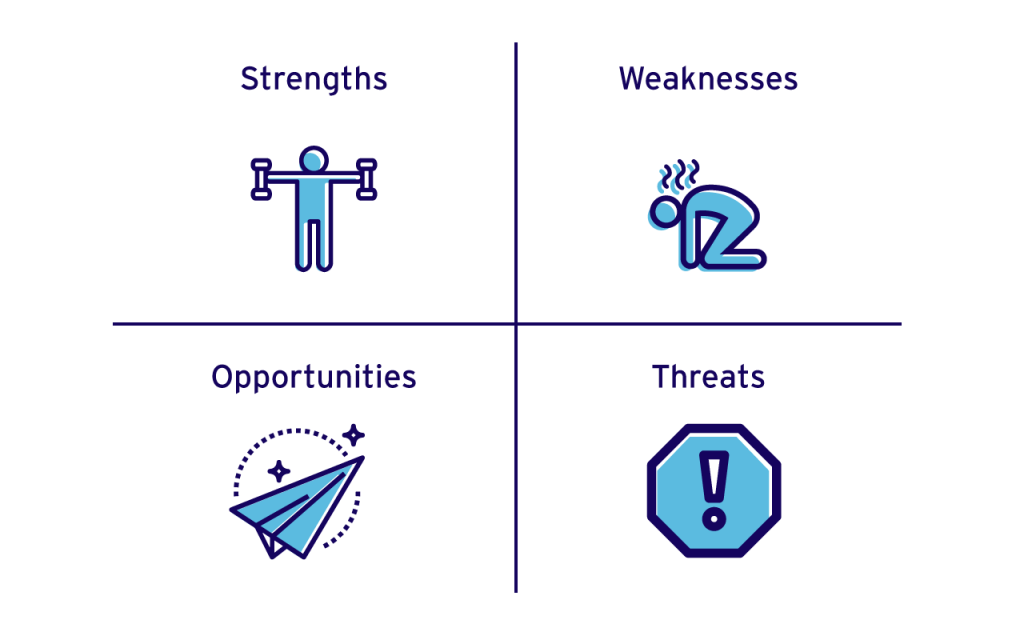 So, what exactly do we mean by Strengths, Weaknesses, Opportunities, and Threats? Let's go through them individually and learn how to identify them.
What's driving us and what's holding us back inside the company?
Strengths
These are the internal factors that benefit your performance. Most importantly, that make you excel over your competition. If you're analyzing an idea or plan, whatever makes this one comparatively better than others. Strengths are what makes it possible for your project or company to succeed, both by being better than others and by overcoming adversities when others are better than you (offense and defense).
Remember, this is a broad analysis of reality, so these categories can hold a very wide range of factors: from processes to employees, products, investments, results… You should start looking through resources, assets, unique competencies and capabilities, functional areas, or value chain activities.
Here are some specific questions you could ask yourself:
What assets (tangible, intangible) do I possess that are valuable to the company or the consumers?
Is there anything I do better than the rest?
Are there any genuine advantages I can exploit that are difficult to replicate by competitors or other projects?
What do other projects or company's lack that I don't?
What makes us unique?
Where do we beat other companies? What do they see as my strengths?
Weaknesses
Weaknesses are inherent negative attributes that detract from your strengths, making the organization fall behind its full potential. They stop the organization from performing at its best and can be both current burdens (financial, technological, human…) or a lack of certain characteristics and resources. Overall, you're looking to identify the elements that are causing setbacks and those you should improve to boost your competitiveness.
Like strengths, weaknesses can appear in many shapes and forms inside your company: financial limitations, low performing production process, bad brand awareness… So look out for them in every aspect of your organization (systems, procedures, policies, branches, activities, among others). Go for a thorough examination of problems, some might be evident, others can be more difficult to find.
Questions to answer and start digging:
What areas of the company are underperforming?
Does the team lack the correct set of skills and capabilities?
What do consumers value the least in our products?
Are we lacking anything that competitors have (assets, resources)?
What is making us not differentiate?
What do competitors see as our main weakness?
Key ideas & tips:
As you can see, even though we're talking about our internal factors, it is always essential to judge them in relation to our environment. This is why you should consider the following aspects before establishing a certain characteristic as a strength or a weakness:
Carefully define what you mean by each factor. There may be different components to the same element of reality in your organization. Each of those may be considered a strength, a weakness, or neither. In the same way, what may be a company's greatest strength (e.g. organizational culture) might be another's major weakness.
Benchmarking your data. An essential part of the SWOT analysis is procuring information that is measurable and easy to contrast. You want to examine your competitive position against other companies or projects. In this sense, it is key to identify your data behind each factor within a benchmark to compare performance against your peers.
Study a resource's VRIO characteristics. A strength can be a resource that fits into this framework, which means it's valuable, rare, and difficult to imitate or replicate. Going through this analysis can help you gain knowledge about your assets and where to assign resources to improve or develop them. This can be a useful tool to complement your SWOT analysis.
What can we take advantage of and what should we avoid outside the company?
Opportunities
Opportunities are mostly external uncontrollable factors in your business environment that you can take advantage of to make something positive. They are favorable circumstances that you can act upon to improve your organization's performance. They usually appear outside the company (a new market gap, tariffs cuts in your country), but they can also be a result of your activity as it creates future circumstances that you can exploit best (developing innovative technologies to reach new markets, potentially having an increasing market share).
When thinking about opportunities you should consider what is happening right now that will affect the environment or industry in the future in a way that you could use in your favor (to increase sales, grow, advance on your mission, or develop your competitive position). In this sense, study your competition and the market changes that may be happening around you:
What trends are succeeding in your industry and the market?
Are there upcoming changes in government policy or events that you can take advantage of?
Can we leverage our resources to get better results?
Are there any products that are being underserved or have a fast-growing demand?
Is there anything that could help you stand out from your competition in the future?
Can you spot changes in social patterns or population profiles?
Threats
These are external factors you have no control over and can negatively affect your organization. Threats have the power of potentially damaging your project, whether they emerge from industry competitors or other external forces. Though they're outside your control, you can choose how to respond to them as long as you are prepared. In fact, you may be able to predict and handle them in a way that turns them into an opportunity.
They can appear suddenly (like a pandemic outbreak), which is why you should set aside resources to put in place contingency plans; but they may be a result of long going tendencies in the industry (a downward trend in the demand for certain products or services or an increasing number of competitors).
Ask yourself:
Will there be new competitors in the market?
Is the industry going through a volatile period or recession?
Have consumer behavior and their needs changed?
Are there any changes in regulation that affect the environment?
Can problems emerge in the supply chain?
Could threats appear inside the company or value chain?
Key ideas & tips:
Analyzing elements of the environment your project or company exists in can be tricky. There's an almost infinite number of ever-changing circumstances molding the reality you have to deal with, plus your competitor's reactions to those changes. It's difficult to identify how all of them could affect your activity to prioritize your response mechanisms and resources.
A good method for organizing these ideas is the PESTLE analysis. When searching for the external factors that can alter your organization's present and future performance, go through Political, Economic, Sociocultural, and Legal changes. These are major forces you won't have power over that can pose a threat or an opportunity to your activity.
Both threats and opportunities can be prediction oriented matters in many cases. One same factor of reality now can be seen as a threat or an opportunity depending on your perspective. For example, exchange rates or stock prices could be both threats or opportunities depending on your forecast. You have to be aware that opportunities and threats may not have the result you expected; so it's essential your predictions are based on objective unbiased facts and you consider information from external sources to make the best possible judgement.
How to do a SWOT analysis
So, we already know what each element of the SWOT analysis is and how we should identify them; it's time for you to learn the best way to conduct the analysis. Further done we'll teach you how you should use it to get the most out of this simple exercise.
First, let's go over how you should organize your template. SWOT analyses are presented in many different ways, but they are usually drawn up as a grid-like 2×2 matrix like the one you see below. Each one of the 4 quadrants represents one of the categories we talked about above. Typically, Strengths and Weaknesses go on top while Opportunities and Threats on the bottom.
It may seem arbitrary, but it's not. This disposition can help you quickly visualize the overall situation of your project and identify the factors in play. Internal factors are on the first row and external elements below them (those you have no control over). In the same way, the 2 quadrants on the left are beneficial or positive aspects to the company, while the ones on the right side affect negatively on your organization.
Steps and tips for the best SWOT analysis
A SWOT analysis can be conducted in many different ways and approaches. It's a simple tool that can be used for informal analyses (starting point for a rpoject). Butyou can also use it to gather information in a more sophisticated manner. In any case, here are some steps and tips you can use for a successful SWOT analysis:
Two heads think better than one. Gather people that are invested in the project or have good knowledge about the different departments or teams in the company. It might be a good idea to ask an outsider for their opinion on different topics. Having fresh, outside the box opinions that are not contaminated by your ideas inside the organization can be useful. Don't go overboard with the number though or it will get too messy.
Make it rain in your brain. Techniques for brainstorming can be very useful to start a SWOT analysis. Everyone should individually go over each of the quadrants adding ideas. Make people think them through and elaborate a little: this helps prevent the repetition of the same ideas as different factors. After this private part (don't let anyone see what you composed to avoid group thinking), throw all your ideas on the wall.
Do the math: add, subtract, divide and multiply. Here's where you compose a serious first draft of your SWOT analysis. Compile all ideas in each quadrant and evaluate them individually and as a whole. Many may be related or some can be causes or consequences of others, while others shouldn't be in the quadrant or the analysis at all. Discuss these matters: add ideas, subtract those you don't need, divide concepts, or expand and multiply others. Do this collectively, make use of a voting system if needed.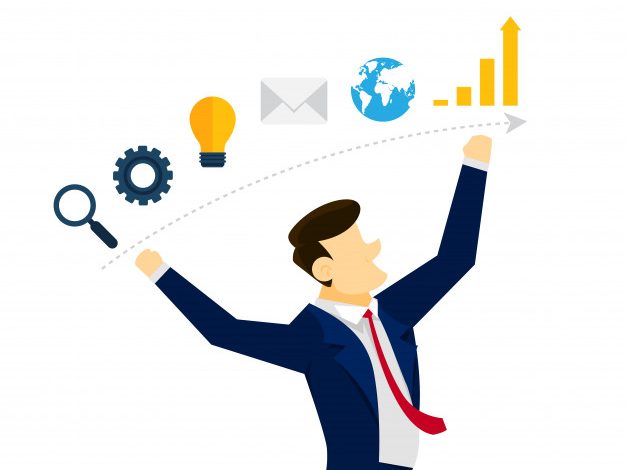 Main guidelines to follow
Any way you want to do it, take into account the following guidelines to get the best end product:
Define items clearly and be specific. You need to get the general idea behind each factor just by taking a quick look at the analysis. Get the most amount of information in one sentence.
Rely on facts. Items need objective measurable truths that you can pinpoint, or links to data that will let you know exactly what's going on. You should be able to know if there's data that needs to change and what elements you have to modify. A good KPI system is crucial to get the best results out of any analysis.
As we said before, factors have to be studied relative to your environment, especially your competitors. You won't be able to organize your factors and place them on the correct quadrant without benchmarking your data.
Try to keep your SWOT analysis short and simple – at least at first glance. Don't go for more than 8-10 items per category. However, you may expand on these ideas further to get a better understanding of what they imply and how to deal with them.
Here's an example of how a SWOT analysis would look like: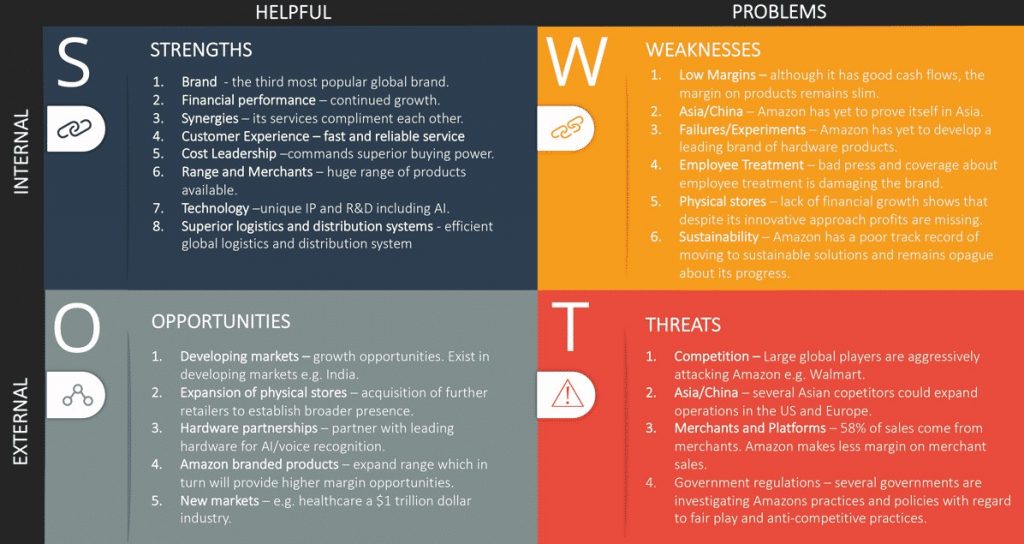 What's a SWOT analysis for? How to use it
As we said in the beginning, a SWOT analysis is a strategic planning tool. Therefore, once you've gone through all the steps of the process you should be able to assess your company's overall position in its environment and elaborate a strategy accordingly.
You can start with a basic strategy based on the information you've gathered. This way, you'd want to build on your strengths, improve your weaknesses, exploit opportunities, and prepare against threats. But that's not all, a better strategy will combine internal and external factors:
Find ways to make the most of your strengths to leverage opportunities.
In the same way, match those strengths to minimize the threats your company faces.
On the other hand, opportunities can give you the chance to reduce weaknesses.
Last, take note of what weaknesses may be causing certain threats, and act upon them.
The following matrix can help you understand how these 4 categories interact:
| | | | | |
| --- | --- | --- | --- | --- |
| | Strengths | Weaknesses | Opportunities | Threats |
| Strengths | How can I multiply my strengths or take better advantage of them? | Can I transform any of my weaknesses into strengths? | What opportunities can I aim to exploit with the resources I have? | How can I mitigate threats by leveraging my strengths? |
| Weaknesses | | Can I internally act to reduce these weaknesses? | Will opportunities help me improve my weak spots? | What threats are exposing my weaknesses? |
| Opportunities | | | Out of your control. Set up systems to find new opportunities | Can I turn a threat to the industry into an opportunity for me? |
| Threats | | | | Out of your control. Establish mechanisms to be aware of possible threats |
As you can tell, the point of developing a SWOT strategy is to find a balance between what you already have and what you expect to be affected by. This is why it's typically used to assess a company's competitive position in the market or its industry.
However, SWOT analyses can be helpful in many ways. You might be looking to study basic information of the playing field you're planning to run your business on. You can analyze outcomes for future projects on a decision-making process to establish which scenario fits your mission best. In any case, it's always beneficial to match these elements together and figure out how to integrate them to maximize your results.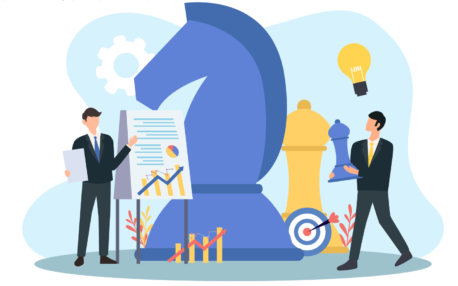 Pros and Cons to SWOT analysis
A SWOT analysis is a great tool to kick off a strategy formulation meeting through a brainstorming session. It allows you to evaluate the general internal and external position of an organization. The analysis can offer valuable information whether it's formulated in an informal setting or in a more sophisticated way. You can use SWOT analysis to get a general feeling of what's necessary to improve a company's competitiveness, as well as to establish precise objectives and goals.
In many cases, SWOT analyses let you visualize circumstances you may not be aware of. It will depict the most important issues to handle. Their flexibility allows you to analyze both from a broader perspective (the whole company, business, brand, or even industry), or a narrower point of view (assessing a team project).
Benefits
So, what are some key benefits to performing a SWOT analysis?
It's simple and practical, yet it can offer very valuable insights: high return on investment.
Shows a clear image of the most important internal and external factors.
Helps you identify future goals and build a strategy to achieve them.
It can be used to kick-start strategy meetings and other more complex analyses.
Drawbacks
It's not all positive. Many managers and academics criticize the analysis. According to them, its popularity doesn't correspond to the real profitability and value of the tool. Many think this is a low-grade unserious analysis with great limitations. These are some reasons why:
Lists of strengths, weaknesses, opportunities and threats are often too long and have excessive overlapping information.
Factors can be described too broadly or too narrowly, making it difficult to build a real strategy on them
Many times people include opinions and feelings instead of facts, which makes it difficult to act upon them correctly
It's difficult to correlate certain items in different quadrants that may be intrinsically linked.
There's no recognized method to distinguish between strengths and weaknesses or threats and opportunities.
When factors are not prioritized you can't tell where to focus your resources by how they affect your organization.
Don't worry, we've got you covered. Keep reading to learn how you can overcome these challenges.
Level up your game: how to do an advanced SWOT analysis
A usual SWOT analysis can be done pretty easily by drawing up a 2×2 table. However, as we have seen, this classic disposition has its limitations. SWOTs become either too short to hold all the information needed for a correct analysis; or too large for it to act as a functional, easy to visualize compilation of factors affecting your company. Also, items and ideas are not prioritized nor easy to relate, making it difficult to build a good strategy around them.
We may not be able to solve every problem a SWOT analysis can have, but we can offer you a system that allows you to make the most out of this analysis. With our 3-step system, you'll be able to plan an easy to follow, prioritized and fitted strategy for your circumstances.
Follow these steps to upgrade your SWOT game and learn how to enhance your team's productivity:
1. Start your SWOT analysis
Create a SWOT analysis using a matrix structure like the following. In this first step, you will apply the basic guidelines and recommendations we've offered you above. To really take advantage of all you can achieve with this analysis, try out using an app that lets you take notes and organize your work. Here, I'm using a Priority Matrix public template, you can use it too!
Priority Matrix is easy to use, doesn't require a big-time investment to learn, and will offer you a high return. You'll see benefits to using this productivity enhancement very quickly. Here's what you should do:
Create a new matrix ("project") and name your quadrants.
Add items to each quadrant with ideas for Strengths, Weaknesses, Opportunities and Threats.
Organize your items from top to bottom or change their quadrant by dragging them along the matrix. This way you can prioritize them in order of importance, complexity.
Expand on ideas for each item in the notes and resources section. Define concepts, add documents or data necessary to comprehend the reality behind each factor.
Link items that are related from any quadrant (or even other matrices) to another. This can help you divide complex factors into simpler elements that need separate handling, but still, have them linked.
Use the chat to discuss different opinions with the team and add value to your analysis.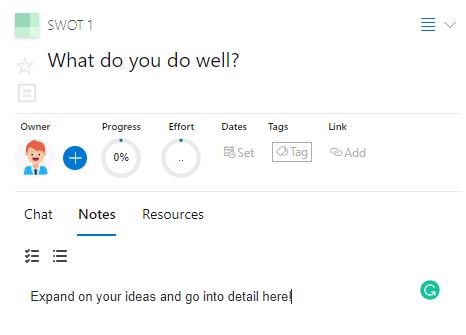 2. Analyze and build your strategy
Study your information and build your strategic plan with your team. To do this, you're going to create 2 different new projects:
1. Relating Internal and External factors on a new matrix (let's call it matrix 2a), as you have learned above and we show you in the picture below. Study the possible relationships between internal and external items and evaluate strategies to make the best out of them. You should do this first because it will give you a broader perspective on everything going on in your environment and what you can do about it.
2. Now, use a third matrix (which we'll call 2b) to write down actions to take internally to control your assets directly. Examine which plans could be useful to follow to improve the business' internal strengths and weaknesses – but don't forget about everything happening outside the organization. These activities are usually tasks that should be done immediately to start polishing your organization's position.
For both of these, start defining your objectives (which should be action-oriented) and goals (that can be less specific). Then add tasks that outline and guide your strategy – establish your steps to follow.
3. Set up your strategy for success
Gather your ideas, tasks, objectives and goals from your strategy and put them together in a matrix that lets you organize and prioritize every step along the way to success. Here's where you can make full use of this tool: act upon your strategy and ensure all the hard work and analysis doesn't go to waste.
Priority Matrix is built to help you and your team be the most efficient and never lose focus on what your chores are. Align everyone's priorities and objectives to push through a project and make your strategies succeed. Here are just the basic functionalities you can exploit on Priority Matrix:
Coordinate work to maximize your team's productivity.
Create team projects to take on the bigger challenges and tasks.
Assign chores to team members and follow their performance easily.
Establish deadlines on the calendar and follow a work schedule to prevent falling behind.
To wrap it up…
In conclusion, a SWOT analysis is a powerful tool for strategic planning. Sometimes, the biggest barrier is to get started. Priority Matrix gives you a one-click option to initiate a new SWOT analysis template, it's almost hard to make an excuse not to do a SWOT analysis for every major project or initiative. Combine Priority Matrix's easy templates with its collaboration platform and deep integrations to conduct your first successful SWOT template today.