Strategic Planning in Priority Matrix
Because of its ability to improve communications and increase visibility across the organization, Priority Matrix is ideal for strategic planning. Advanced views like the Gantt Chart, in-context information, and one on one views, help executives make sure that strategic decisions inform operational activities. However, before this can happen, a solid strategic plan must be in place. Priority Matrix's four-quadrant design supports multiples strategic planning models. You can launch these models and share them in a strategic planning meeting or you can work on these models in collaboration with other executives, across time. Check out these strategic planning models and launch them in Priority Matrix, via the links provided.
SWOT Analysis
The SWOT Analysis helps you take a look at your company and analyze both potential positives and negatives. This is a great start in strategic planning because it helps you get a sense of how things really are before you create strategic objectives:

Quadrant One, Strengths: What does the company have going for it?
Quadrant Two, Weaknesses: What are the areas where the company needs improvement?
Quadrant Three, Opportunities: Given the strengths (or competitors' weaknesses) what are the opportunities for success that you can see?
Quadrant Four, Threats: Given weaknesses (or competitors' strengths) where could the company get in trouble?
VRIO Framework
After you have completed the SWOT analysis, the VRIO framework helps you analyze your strengths and understand if these strengths translate to advantage. When it comes to strategic planning, it is important that you do not stop with a SWOT analysis, content with the strengths that you've uncovered. There are factors that could prevent these strengths from contributing to success. The VRIO framework helps you dig deeper and make sure that you are effectively using your strengths as resources.

Quadrant One, Valuable: Does this resource truly bring value to customers? If not, it may not deserve the attention it has received.
Quadrant Two, Rare: Is this resource easily  found elsewhere? A resource that is very common is definitely a positive, but likely not the key to gargantuan success.
Quadrant Three, Imitable: How difficult would it be for competitors to acquire this resource? Even if the resource is rare right now how likely is it that it it will no longer be in the future?
Quadrant Four, Organization: Does the organization have the processes to take full advantage of this resource? A resource may need several departments to work together to fully mine all potential success. For example, an innovative product needs marketing and sales to help it take the lead in the market.
PEST Model
Effective strategic planning must also look outside at changes that are not directly in the company's control. Failing to look at these changes when creating a strategic plan means that the strategic actions you take might be a strategy that would work in the environment of a few months back though it no longer works today. In addition, looking at the PEST Model helps with contingency planning, a critical part of a proactive strategic plan.

Quadrant One, Political Factors: Legal changes, changes in tax policy, or changes in government can affect the company's strength or buyers' willingness to commit.
Quadrant Two, Economic Factors: As an example, changes in interest or unemployment rates will directly affect a company's revenue.
Quadrant Three, Social Factors: Changes in customer needs and priorities may cast a product in a different light.
Quadrant Four, Technological Factors: Today, a company's product may be cutting edge, but a new wave in technology could render it completely obsolete. Companies would do well to prepare for this.
Strategy Map
A strategy map helps you set down and illustrate the company's strategic objectives in one view. The strategy map's four quadrants cover strategic objectives from different perspectives. This is important because different stakeholders in the company will approach the strategic plan from different perspectives. It is important that each stakeholder sees how everything fits together.

Download the Strategy Map Template
Quadrant One, Financial Perspective: Financial goals could be to reduce costs or even to change the payment model in response to threats or changes in the SWOT or PEST models.
Quadrant Two, Customer Perspective: One customer-centric objective could be to increase repeat customer, or take a clear lead in the market so that potential customers gravitate towards the company's product.
Quadrant Three, Internal Perspective: If there are too many silos which, meaning that the company is not able to work together to make sure that product innovation is reflected in the market, an internal objective could be to breakdown silos to take better advantage of value as seen in the VRIO model.
Quadrant Four, Learning and Growth Perspective: A learning and growth objective could be to build more emphasis on innovation in all areas, not just product.
Eisenhower Matrix
After using the models above to analyze and understand different strategic factors, the Eisenhower Matrix is a great way to concretely convey strategy goals. For the purposes of a strategic plan that covers the next three years, an immediate goal would be something that needs to be accomplished within the next year, while goals that are not immediate are left for years two and three.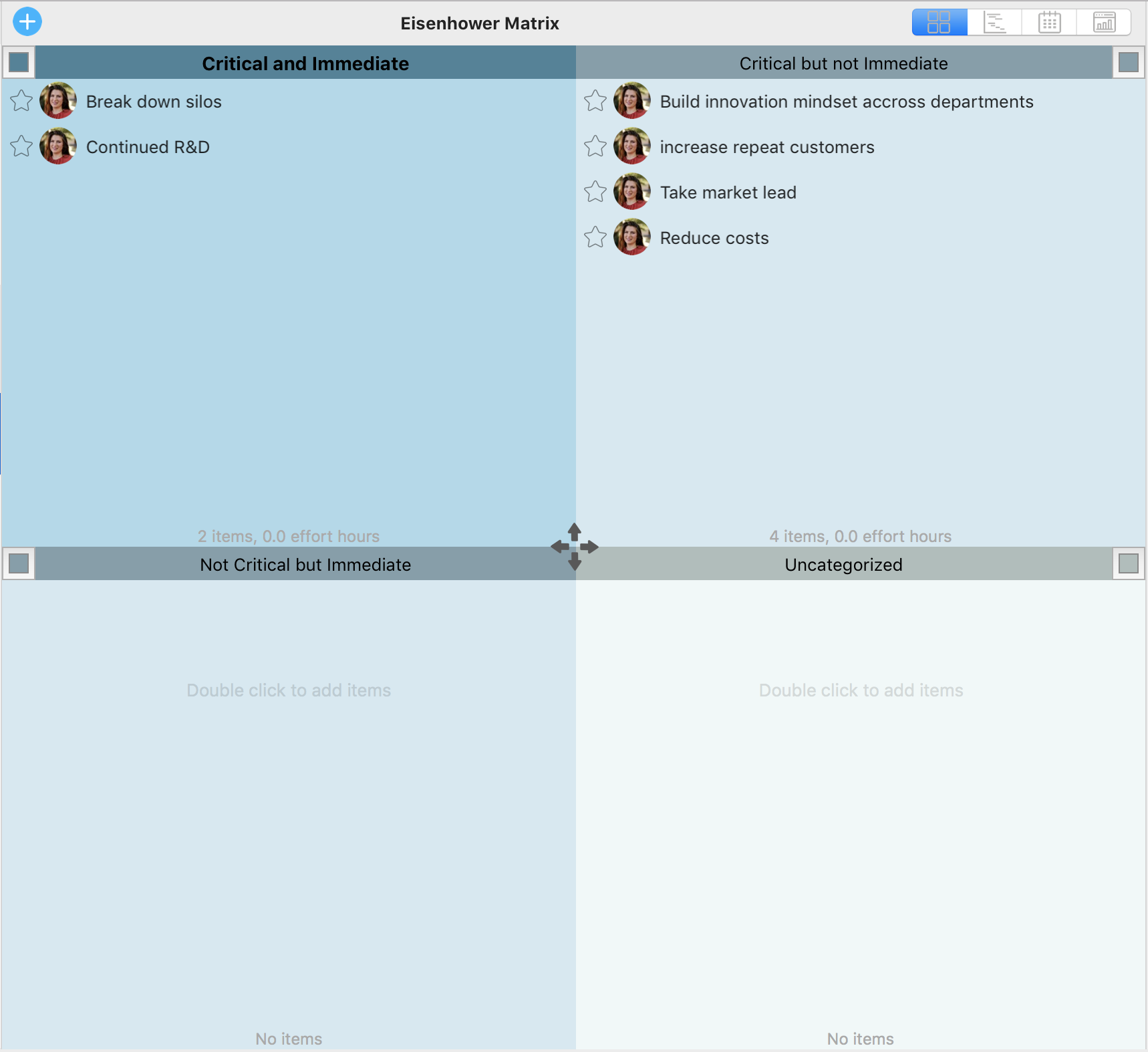 Download the Eisenhower Matrix Template
Quadrant One, Critical and Immediate: This years strategic goals would be to break down silos (all departments can work together to take advantage of resources). In addition, there would be a strategic emphasis on continued research and development to make sure that the 'innovation' resource is not lost.
Quadrant Two, Critical but not Immediate: Objective for years two and three in this strategic plan would build on these objectives. While they are not immediate, they would still be a clear response to the information found in the previous strategic planning models above.
Quadrant Three, Not Critical but Immediate: If there were anything is this quadrant, it would be because there was a mistaken strategic objective previously. Putting the objective here would clarify that it is not a priority and should not inform operational decisions.
Quadrant Four, Uncategorized: After the strategic plan is clarified and shared, there would likely be questions. Clarifications and examples would be added in quadrant four.
Conclusion
The strategic planning models above can help you clarify different variables and solidify a strategic plan. After you have the templates above, check out how you use Gantt charts for operational planning, here.
To learn more about strategic planning models in Priority Matrix, watch this video: