As an employee, it can be concerning to hear rumors or see signs that your company may not be doing well. While it's important to stay informed and be aware of the financial health of your employer, it's also important to take proactive steps to protect yourself and your career. In this post, we'll discuss some things you can do if you fear that your company is not doing well, and you're worried about the possibility of layoffs.
Stay Informed
The first step in addressing any concern about your company's performance is to stay informed. Keep an eye on the company's financial reports, press releases, and any other relevant information that is publicly available. This will give you a better understanding of the company's current situation and performance. Additionally, stay informed about the company's industry and competitors, this will help you to better understand the company's position in the market and any potential challenges it may be facing.
Network and Maintain Relationships
It's important to maintain relationships with your colleagues and industry professionals, even if you don't currently need their help. Networking can be a valuable asset in your career and can be especially useful in case of a layoff. In addition, networking can also help you stay informed about job opportunities and other companies in your industry.
Develop and Update Your Skills and Qualifications
One of the best ways to protect yourself from a potential layoff is to make yourself as valuable as possible to your company. Take the time to develop and update your skills and qualifications so that you are well-equipped to take on new responsibilities and projects. This can also make you more attractive to other employers in case of a layoff.
Communicate with Your Manager and HR
If you're concerned about your company's performance, it's important to communicate with your manager and HR about your concerns. Ask for feedback on your performance and be prepared to address any areas of improvement. Be proactive in finding solutions and showing your value to the company.
Stay Positive and Professional
It's important to stay positive and professional, even if you're worried about a potential layoff. Maintain a good attitude and keep your focus on your work. Remember that your professionalism and positive attitude can be a valuable asset in your career. If you are worried about your job, chances are your managers and business owners are probably fretting about how to weather the recession without having to resort to layoffs and other painful measures.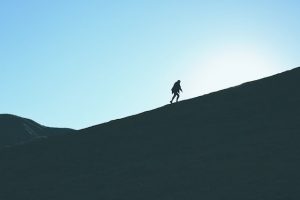 Prepare Financially
In case of a layoff, it's important to have a financial plan in place. Keep your finances in order and consider taking steps such as building up an emergency fund, paying off debt, and cutting back on unnecessary expenses.
Improve Performance by Focusing on High-Impact Work
In addition to the steps outlined above, another way to protect yourself and demonstrate your value to the company is to focus on high-impact work. This means identifying and prioritizing the tasks and projects that will have the greatest impact on the company's performance and your own career development.
One tool that can be very helpful in this regard is a Priority Matrix. A Priority Matrix is a simple tool that helps you to organize and prioritize tasks and projects based on their level of urgency and importance. By using a Priority Matrix, you can quickly identify the most important tasks and projects that need to be done, and focus your time and energy on those tasks that will have the greatest impact.
Wrapping up
In conclusion, if you're worried about your company's performance and the possibility of a layoff, it's important to stay informed, maintain relationships, develop and update your skills, seek out new job opportunities, communicate with your manager, stay positive, and prepare financially. Remember, being proactive and taking steps to protect yourself can give you peace of mind and confidence in your career. And even though it may seem challenging, remember that there are always opportunities out there, and a layoff may open doors to new and exciting opportunities.