When you have evaluate 2 different products, the answer isn't always so simple. Using a list of pros and cons (using this pros and cons template) is a fantastic way to simplify this evaluation.
Pros and Cons Meaning
According to dictionary.com, the concept of pros and cons refers to "favorable and unfavorable factors or reasons [for or against something]; advantages and disadvantages."
Pros and Cons List
To create your pros and cons list, first look at the 2 choices you have to make, and list what you consider as the positive, — pros, and negatives, — cons.
This simple step lets you immediately see and communicate the assumptions you are making about each of the product.
Don't underestimate how powerful this approach is — if 3 people evaluate the same problem to list the pros and cons, you might not come to the same conclusion. This is when you have that truly important discussion of what matters.
Pros and Cons List Maker
Priority Matrix makes carrying out your pros and cons list more simple by offering a pros and cons template.
To make it easy, here's our favorite way to use to do pros and cons, in both a picture format that you can print, and the Priority Matrix pros and cons templates that you can download to your favorite Priority Matrix app.
Pros and Cons List Template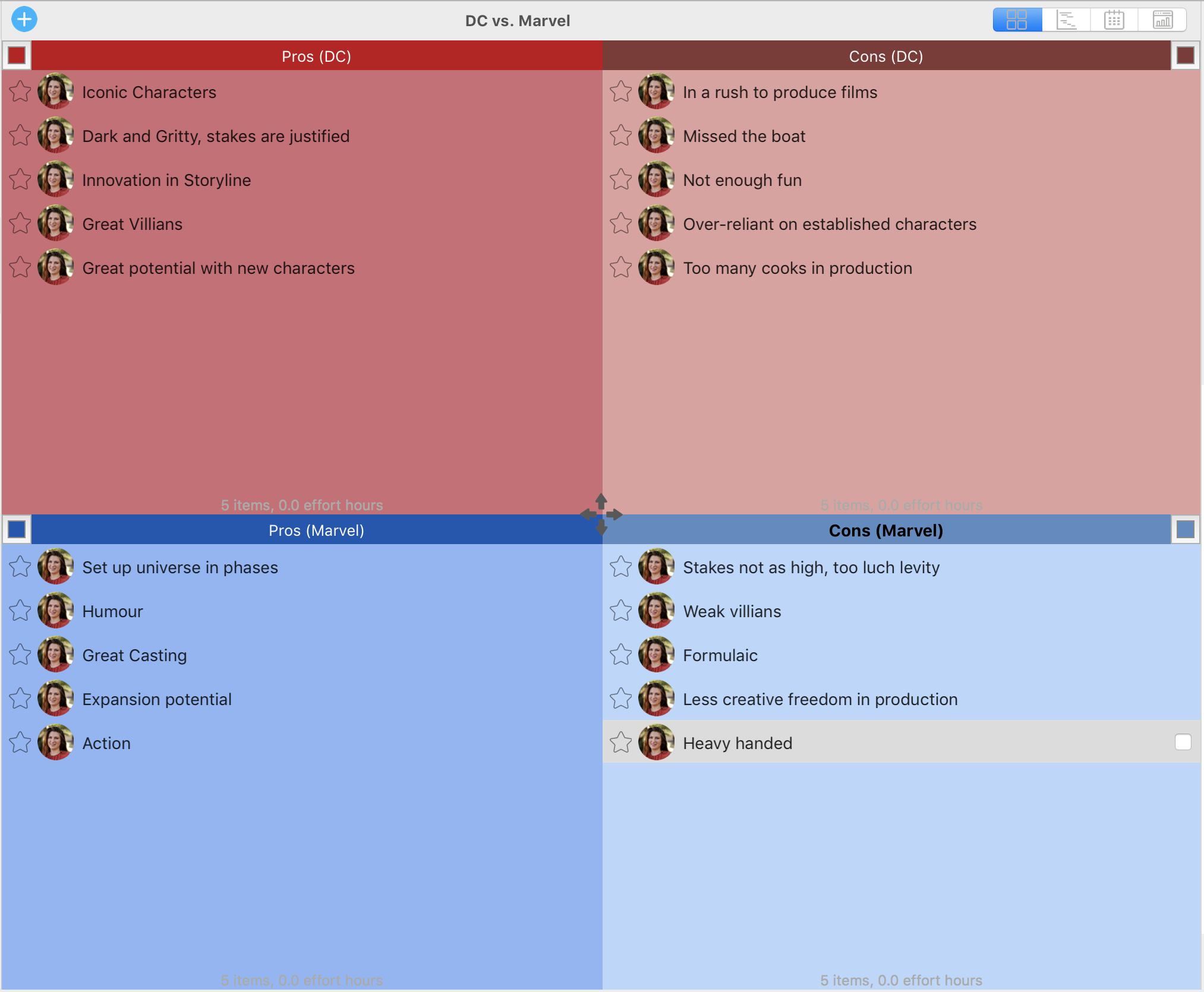 To download or print a PDF of this template, click here!
Or import the free Pros and Cons Template for Priority Matrix.
Learn more about using the Pros and Cons Template in Priority Matrix:
Once you download the template for Priority Matrix, you'll be able to share it with your team members, delegate items to one another, and even communicate to further discuss the pros and cons or whatever you're evaluating. Enter your email below to get started with PM, free:
Let us know if this is helpful!
Read Next: