What Is Operations Management?
Operations management is a business field that manages the processes of producing and distributing products and services. It involves planning, organizing and transforming inputs into goods and services adding value to the customer as well as overseeing the processes to get a balance between the revenues and costs, achieving the highest operating profit possible in the most efficient way. It often includes substantial measurement and the analysis of all the internal processes.
This all means that for the organization to stay afloat they must be able to handle materials, machinery, technology and workers from which they can create high-quality goods and services.
The Importance Of Operations Management
Operations management acts as the engine room for organizing, planning and promoting manufacturing or service and it is considered that everything about a business depends on it.
Effective operation management will help the organization compete in an ever-changing market as they will be able to maximize profits, efficiency and productivity and will increase employee engagement and define the roles and responsibilities within the company, which are all important elements necessary for the organization's survival.
This all means that a good and strategic operations management will help the organization make sure, no matter the obstacles they face, that the employees' productivity and the company's production aren't affected, however, if the organization fails to manage its operation properly, the results and outputs can be badly affected and can lead the company to disappear. So, whether you sell a certain SaaS product or produce online podcasts, you need to organize operations successfully.
If you want to know more, watch this short video from an Operations Manager:
Principles Of Operations Management
According to the experienced Production and Operations manager called Randall Schaeffer, there are ten principles that operations managers should apply:
Reality
Instead of focusing on the techniques, operations management should concentrate on problems, because there is no method that provides a universal solution.
Organization
In the same way that human biological systems work together to keep a person alive, business processes are also interconnected. This means they need an organization in place to keep things moving and all its elements have to be consistent and predictable.
Fundamentals
All fundamentals must be followed by operations managers, as this is the key to production success. To achieve the desired results, it is crucial to ensure the accuracy of inventory data, BOMs, and other general tasks. In operations management, the "Pareto Rule of Efficiency" (80/20 rule) applies, with 80% relying on existing systems and 20% provided to new methods, resources, and processes. This will provide the best chance of survival.
Accountability
This principle is key when running a manufacturing operation. Operations managers can ensure that things run smoothly by communicating processes, assigning responsibility, and measuring metrics to ensure that people perform the tasks they are expected to do.
Variance
Variances are part of every process. When small changes in processes occur, support them because this form of creative thinking will lead to better results. If the organization expects to reduce costs, the variance must be measured and controlled, however, if they expect to increase options or enhance variety, a variance must be supported.
Causality
Problems are very similar to symptoms as both of them have underlying causes, this means that everything is caused by something so if we want to solve an issue, the root of the problem must be found rather than ignoring it and just trying to solve the effects.
Managed passion
The enthusiasm of the company's workers is the key to its growth and prosperity. It's true that not every employee is going to be passionate about the job but managers can still try to encourage it. In this case, managers are critical in raising company morale and fostering positive employee attitudes.
Humility
It's very important to keep in mind that no one is hired because they know everything, operations managers are constantly exposed to circumstances that they are not familiar with, so don't hesitate to admit ignorance because errors are expensive. Ask for help, learn and move on.
Success
Markets are changing constantly changing so the definition of success often has to be revised. However, customer satisfaction is a constant measure of performance. Maintain this as a corporate priority, and it will help with the achievement of other objectives.
Change
Change is inevitable and sometimes it is a good thing, it appears to be for the better thanks to the new technologies. To gain buy-in from key stakeholders, be open to change and communicate the reasons for it.
Functions And Roles
Operations Management deals with a wide range of functions and roles involving managing operations and procedures within the organization. Their main goal is increasing performance and productivity which will ensure successful delivery of the project. However, the functions and roles vary depending on the market and the size of the organization.
Behind the operations management, there is a manager whose role is to optimize operations by allocating resources and capital effectively. They manage all the aspects that are related to the operations that take place within organizations. Some of these roles involve:
Managing projects
Establishing information systems
Designing, managing and improving the operations systems.
Designing and developing goods or services
Monitoring inventory across a supply chain,
Ensuring quality control,
Managing customer distribution
Maintaining facilities
Forecasting for changes
Strategies In Operations Management
Operations managers are now deeply involved in a variety of roles and functions, so they have developed several important strategies and tactics to ensure that their obligations and responsibilities are carried out effectively. They rely on some key strategic and tactical methods, just like the following:
Data Challenges: Data can be large and the results can be inconsistent, making it difficult to compare. Managers can now see, manage, and analyze data more easily and efficiently thanks to advanced systems and software.
Leveraging Data: For planning, strategic marketing, and decision-making, savvy operations managers rely on the quality, accurate, and reliable data.
Forecasting and Goal Setting: Setting objectives gives the organization and its workers guidance and inspiration. Forecasting offers both optimism and an incentive for the company to plan for bad outcomes.
Managing People: This is critical to your business's success because employees are the company's backbone. Daily business operations will cease without them, and your company will be unable to produce high-quality goods or services.
Analyzing Inventory: The organization should use inventory management software, which will make it easier to assess inventory and managers would be able to categorize their items more effectively.
Collaboration Between Departments: Operations management can easily communicate with finance, sales, marketing, human resources, and other departments if they have strong communication and coordination between each other.
Social Responsibility: Nowadays, environmental stewardship has become a strategic and legal requirement for businesses, especially in manufacturing.
Process Design: Operations managers put a lot of effort into conducting through research, making accurate estimates, and developing effective processes which will lead to long-term results.
Required Degrees And Qualifications, Skills And Salary
Degrees And Qualifications
Operations managers are in charge of the main business activities and processes. They need to be an expert in the field where they are expected to perform.
To become an operations manager the first thing you need is to get at least a bachelor's degree in business administration or a related field as long as they include as part of their course: business communication, financial accounting and principles of management, which will lead you to develop knowledge in the necessary skills for this job.
This degree combined with work experience/internships will prepare you to pursue a number of career options in a variety of environments, including private businesses, government departments, nonprofits organizations and international organizations.
It can also be a good idea to get a masters degree. It is completely optional but it will give you an advantage towards getting the operations manager position. There are many specialized graduate masters programmes where you can choose from, where you will be able to gain skills and career advancement. One example could be the Master of Business Administration (MBA) in project management, which is specially designed for this type of job because it will solidify the student's knowledge in the business field and their skills.
Skills
Being an operations manager is a difficult role that entails a wide range of managerial responsibilities and in almost every company they are necessary as they make sure the organization is achieving their full potential.
This means that a good operations manager needs a series of skills to be able to keep their eyes on multiple tasks areas, productivity, efficiency and be able to guide multiple groups of people to make sure they are completing their tasks in order to achieve their goals.
These are some of the most important skills required to become an operations manager:
Experience
This is the most important skill because this role involves being in charge of every process and operation and owning up for everything that happens in their department. They need to have a good understanding of the entire process which means it is important for a company to find people that have experience in a similar role because an operational error can have a very negative impact on the business
Leadership
This is a very important skill because operations managers usually lead big teams. They need to be able to set goals, take responsibility, mentor them, set an example especially in times of high stress and workload and guide them into completing the expected tasks and achieving goals efficiently. This skill also requires ensuring that their team stays motivated and focused.
Good Written And Oral Communication
It is also very important for operation managers to have good written and oral communication skills as they have to be able to give clear feedback and instructions to their team.
Organizational Skills
This type of role requires good organizational skills. They are responsible for multiple business processes involving managing a high quantity of workflow and budgets of different departments at the same time they ensure they are on the right track to achieving their goals. This means they need to be able to handle all the activities simultaneously. They must stay organized and detail-oriented.
Here is a video with some key skills that every operations manager should have:
Salary
The salaries for operations managers across Europe show just how important this role is and they can expect an increment of the salary throughout their career. Unlike other roles, the performance metrics are quite stable and consistent, so it means that the maximum increment potential for a year might be lower than other jobs but the salary is also quite stable.
According to The Bureau of Labor Statistics, the median salary for Operations Managers was $100,410 in 2017. However, this can vary depending on the industry.
Tips To Be a Good Operations Manager
An operations manager has a lot of responsibilities that they need to handle, which makes it quite stressful and hard. That's why we are giving you a couple of tips that can help you become successful:
Build a good team
Stay up to date with the latest technology
Work smarter, not harder – Organize your work effectively
Make sure you are focusing on the right metrics
Communicate clearly, making sure everyone understands what to do
Embrace problems
Conclusion
I hope you have enjoyed reading this article and that you have learned how to be a good operations manager. There are many more things to it, as it is a very complex role but it is a good way to get started.
If you want to know more about operations management you should read the following books: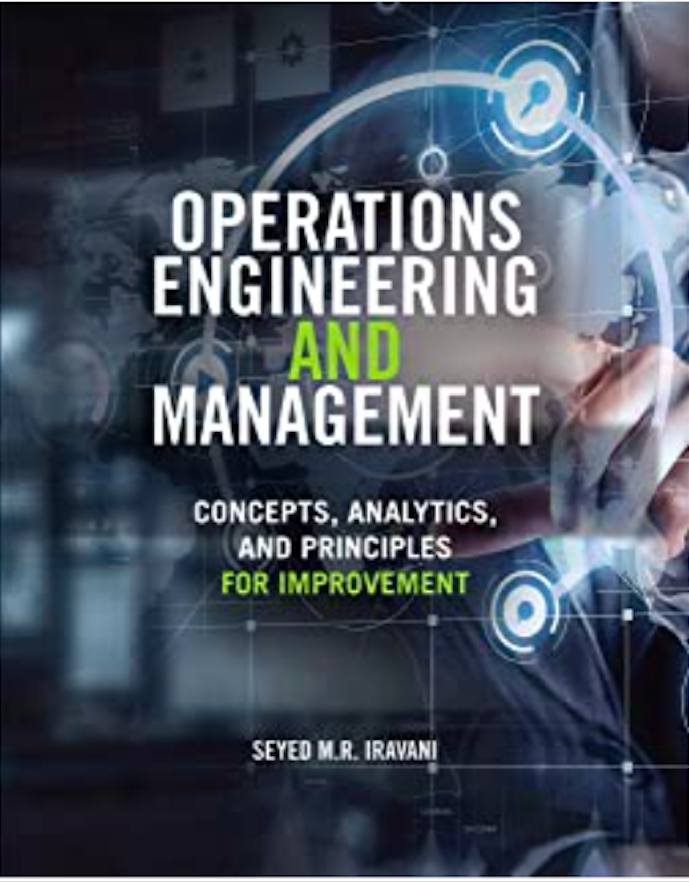 Additional Resources: