The economic downturn is never an easy thing to face, especially as a small business owner. The thought of laying off employees or even closing your doors is a heartbreaking one, but it doesn't have to be the only option. There are steps you can take to weather the recession and come out even stronger on the other side.
Cut Costs
One of the most effective ways to weather a recession is by cutting costs. Take a close look at your expenses and identify areas where you can reduce spending. Some cost-saving measures to consider include:
Reducing travel and entertainment expenses
Renegotiating vendor contracts
Cutting back on non-essential purchases
Eliminate discretionary spending like bonuses and perks, as it can save cash
Reviewing and reducing your rent or lease payments if possible
Re-evaluating and cutting unnecessary subscriptions or memberships
Increase Revenue
Another strategy for weathering a recession is to focus on increasing revenue. This can be done by:
Expanding into new markets
Offering new products or services
Investing in marketing and sales efforts
Finding new revenue streams; for example, you might be able to charge for premium support
Encourage customer loyalty by providing excellent customer service and incentives
Streamline Operations
An efficient and streamlined business is better equipped to weather a recession. Consider ways to make your operations more efficient, such as:
Automating processes: Have you tried Power Automate?
Eliminating waste (easier said than done, but be creative)
Outsourcing non-core activities to save time and money.
Reducing inventory and managing your cash flow more effectively.
Leverage Technology
Technology can play a big role in improving productivity and efficiency during a recession. Invest in technology such as:
Cloud-based software
Automation tools (did we mention Power Automate?)
Digital marketing platforms (can you sell on Etsy? Amazon?)
E-commerce solutions (if you have a physical store, adding a digital storefront is a no-brainer)
Seek Funding
Additional funding can help sustain your business during a recession. Look for funding sources such as:
Loans, best if you can get good terms from your bank
Grants and government incentives
Investment (VC capital is still looking for good opportunities)
Crowdfunding (do your customers love you? make them prove it!)
Diversify Your Customer Base
Diversifying your customer base can help reduce dependence on any one customer or market. Reach out to new customers and explore new markets, as you might be unaware of the opportunities that may be awaiting you after just some small tweaks to your offers.
Prioritize High-Impact Tasks
During a recession, it is important to focus on the high-impact tasks that will have the most significant impact on the business. One way to do this is by using a tool like Priority Matrix, which allows you to prioritize tasks and allocate resources effectively. Use Pareto principle to your benefit.
Focus on Core Competency
During a recession, it is also important to focus on the core competency of the organization. This means identifying and focusing on the activities that the business does best and that will give it a competitive advantage. Let go of anything that's not essential and focus on what makes your business unique and special.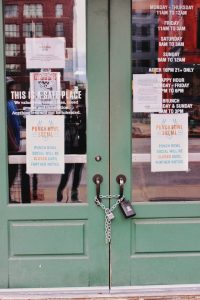 It's important to remember that recessions are not permanent, they are temporary and they will pass. By taking the steps outlined above, small business owners can navigate the recession and come out even stronger on the other side. The key is to stay positive, keep a clear head, and focus on the actions that will help your business survive and thrive. Remember to communicate with your team, and work together to overcome any challenges that may arise. With the right strategy and mindset, your business can weather the recession and come out stronger on the other side.