In this article we discuss some of our most recent developments and integrations with Microsoft technology, the reason behind our decisions, and how Priority Matrix users benefit from them. But first, some basic concepts for those of you who are not familiar with Appfluence.
What is Priority Matrix?
Priority Matrix by Appfluence is a leading prioritization software that uses the Eisenhower Method to help teams prioritize projects, tasks, and emails, aligning on what matters most. In short, it provides leaders with visibility into what their team members are truly focused on. Priority Matrix was the first project management solution with a Microsoft 365 Security Certification, is one of the most integrated solutions on Microsoft Teams, and is a top Outlook Editor's Choice app.
In order to make the user experience smoother, Priority Matrix integrates with Microsoft Graph APIs in a number of ways. These integrations run the gamut from early onboarding stages to advanced business features.
What is Microsoft Graph API?
Microsoft Graph is the data system that governs data within the Microsoft 365 system. The Microsoft Graph API provides a gateway into those data sources.
Team Onboarding
Priority Matrix implements Login with Microsoft because of its powerful single sign-on functionality. Additionally, new users are able to quickly invite their team to the tool, and get started prioritizing in no time. Priority Matrix queries the list of teammates that the user works with, and shows a simple one-click interface to add them, right after signing up for a trial of the system.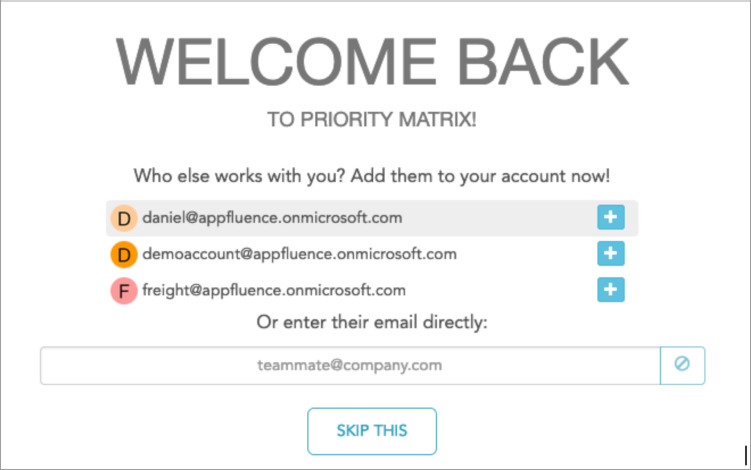 One-on-One Meeting Support
Preparing for regular meetings can sometimes be frustrating and time-consuming. To facilitate the experience, Priority Matrix provides a "one on one" mode that shows the user everything work-related they have in common with their meeting counterpart. For example, users can see the list of messages between each other, joint events attended or scheduled, and even shared files in OneDrive or SharePoint. Of course, shared Priority Matrix tasks are shown prominently. By querying several Graph APIs, all that information can be presented in one place, enhancing the meeting experience and saving everyone time and headaches.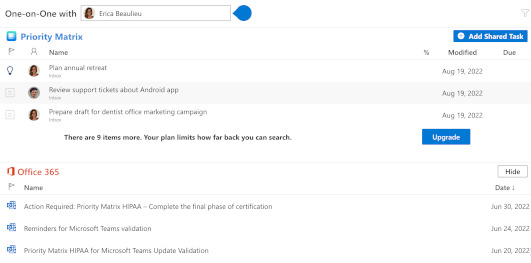 Real Time Office 365 and Planner Hub
Priority Matrix provides a centralized location to review your Office 365 documents, Planner tasks, Outlook emails, and upcoming Outlook events all within Priority Matrix and within Teams. Users can search both Priority Matrix action items and Office documents at the same time, which saves users time and reduce context switching. Proper IT permissions are required.
Smart Meeting Agenda Preparation
One of the biggest challenges with meetings in which there's no one single person in charge is the lack of a clear agenda prepared ahead of time. Priority Matrix helps with this by polling Graph and automatically generating an agenda template for each meeting. It considers the attendee list and their activity and responsibilities in the system to suggest a list of items for each person to cover in their part of the meeting. The agenda can be collaboratively edited by each participant ahead of time, or during the meeting, doubling as a meeting-minute and note-taking tool.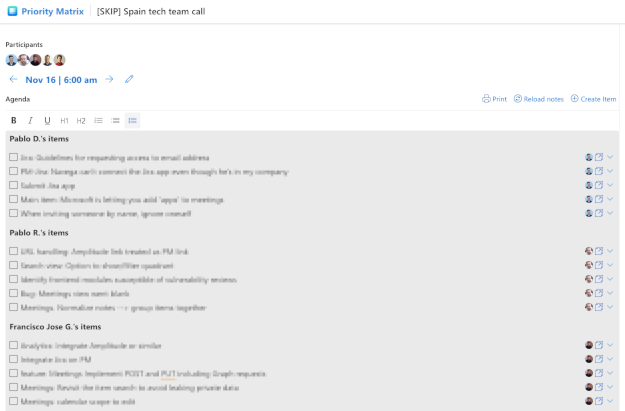 Private Storage via OneDrive
Some organizations are not comfortable with their internal data being stored away from their control. Understandable, this is more common in regulated industries and government organizations. In order to support these use cases, Priority Matrix integrates with Graph to allow users to store their attachments in their own OneDrive account, instead of Appfluence's own infrastructure. That way, IT departments are happy, and organizational data never leaves the internal infrastructure.
Related Microsoft Teams Add-Ins
Priority Matrix also works hand-in-hand with additional Teams add-ins including My Reminders to help you remember important tasks, as well as Delayed Send, which schedules Teams messages in the future. The flexibility of Microsoft Graph makes it possible to implement this functionality in relatively short time.