Priority Matrix supports a very useful feature we call the Item Inbox. It lets users like you send an email message to a special address in our server, in order to create a new item. This enables interesting use cases, such as:
You receive an email from a colleague describing some task to be added to your queue. Instead of copying the relevant text, going to Priority Matrix, creating the new item and pasting the text, you can simply forward the message to our server, and we'll add it to your Priority Matrix account.
You are on the go and some brilliant idea occurs to you, but your Priority Matrix app is not available for some reason (maybe you're on vacation without your phone or computer and all you have is a web-café down by the beach with old PCs running Windows XP?). Don't panic! Simply write your idea in an email message, send it to our server, and voilà, the next time you open Priority Matrix, it will be waiting for you.
Watch how it works (on an older version of Priority Matrix, but you get it):
How does the item inbox work?
It's simple. Each Priority Matrix account has a private and secret Item Inbox address. Email messages sent to that address will appear as incoming tasks in your Item Inbox the next time you open Priority Matrix. The easiest way to find out your private Item Inbox address is to open your special links page and just copy the address into your clipboard. Save it in your address book to be used when the inspiration strikes, and you need to create new items via email. Finally, when you open the Item Inbox in the Priority Matrix apps, you can drag them to a specific project and quadrant of your choice to incorporate them into your work. That's all!
Is this a special project in my account?
Sort of, yes. We think of an item inbox as a temporary location for your items, before you put them in an actual project. It's a good idea to separate the mental spaces of ideating and classifying. When you're in ideation mode, you have exciting new ideas, like during a brainstorm session. At that time, it's important to just capture things without passing judgement, and let the imagination flow. Then, when you have the time to classify the ideas, you can evaluate them carefully and move them to a specific quadrant inside the relevant project, delegating it and setting due dates, etc.
Can I email items to a specific project?
Absolutely. If you want to email a new item directly into a specific project, there's a link for that. These are two ways to get that link.
Using the project menu
Open the project for which you'd like to get a direct email address
Open the project menu, under the "hamburger" icon in the top-left corner
Select "Get Secret Email Address…"
Follow instructions to pick the specific quadrant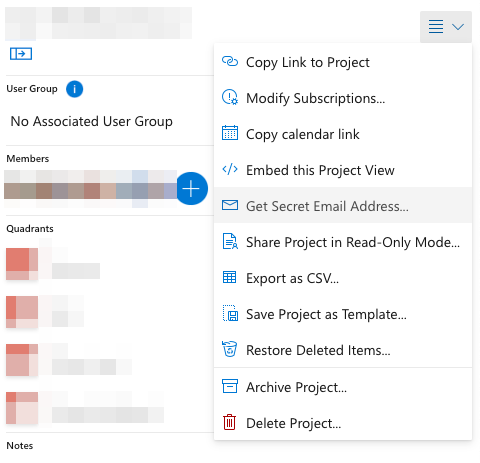 Using the Special Links dashboard
Open section Email Addresses for Your Projects
Locate the specific project you're looking for
Select the destination quadrant (Q1 to Q4) in the dropdown control
A special email address will appear in the big box, which you can now copy and save
Alternatively, click on the project members below to email them a new item, in the shared project
When you email that address, a new item will be created with the appropriate owner, and you can work with it directly using any of the Priority Matrix apps.

Can I email items to someone else's inbox?
Definitely. In order to send someone else items via email, ask them to open their special links page, copy their custom, private inbox, and share it with you. Similarly, if you want someone else to email you new items (i.e. if you're preparing some auto-forwarding filter for high-importance messages), open that page yourself, and share your custom inbox address with your contact. Just be careful who you share your inbox with. Treat it as the private resource that it is.
What about email threads?
Typically, when people respond to an email, they want to keep talking about the same topic. In Priority Matrix we recognize that intent by grouping all emails that correspond to an email thread, and attaching them to the same item, instead of creating a single new item for each new email in a thread. This means that if you (or your teammates) forward two messages titled "ABC" and "Re: ABC" to the same inbox address, the system will attach both messages to the same item. If this is NOT what you prefer, you can open your user preferences page and uncheck the option labeled "Thread forwarded emails".

Can I add items to my inbox using the app?
Yes you can! Each of our apps lets you add items directly to your inbox. The specific steps are different depending on the version of the app you're running. When using Priority Matrix on your web browser, you'll see something like the image below. If you find it more convenient to add items to your inbox than to a specific project, we're here for you!

We would like to hear from you if you find this feature valuable or not, and if you have any comments or suggestions for improvement. If so, as always, write to us. We love user input!