On January 14, 2013, Daniel Shapero of LinkedIn published his article titled "How to Manage Projects: Double Down, Delegate or Destroy," in which he detailed his strategy for prioritizing his to-do list of projects, in order to offer insight to company leaders and managers.
In order to determine which projects are prioritized, and thus which projects to spend resources on, Daniel creates a 2×2 matrix . On one axis, he places VALUE, and on the other, PROBABILITY.
For each project in his organization, he says "I evaluate it on two dimensions.
What is the VALUE of the project if it succeeds?
What is the PROBABILITY of it succeeding?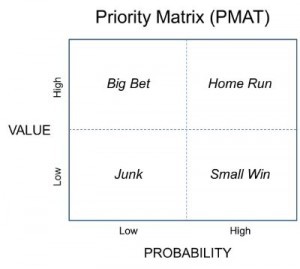 >>Want to download a PDF of this template? Click here to share and download<<
Daniel says he focuses resources primarily on Home Runs, followed by a mixture of Big Bets and Small Wins.
Home Runs, Big Bets, and Small Wins:
Big Bet – Big Bets are projects that require your expertise, which means your time is best invested seeing them through, at least at the beginning. By "doubling down" on these projects, the goal is to increase their probability of being brought to completion. This turns a big bet into a Home Run, after which you can hand it off to a team member, and focus on your next objective.
Home Run – Home Runs are best handled by delegating them to a star on your team. Make sure that you outline the goals of the project, and check in weekly to ensure the project stays on the right track.
Small Win – Small Wins should also be delegated. As they are of less importance, they also do not require as much monitoring, so this duty can be delegated as well. Send these projects past the "stars" on your team to employees further down the line.
Junk – Rather than ignoring Junk projects, which may be tempting, your resources can be maximized by destroying them altogether. This will allow you to focus resources elsewhere, rather than watching them slowly drip away in these leaky-faucet tasks.
In order to analyze use of time and resources, Daniel says he asks managers conducts the following exercise:
Write down your projects on the PMAT template
Write down how much time you are spending on each.
If your results don't line up with the suggestions outlined above, you may be headed in the wrong direction.
To help you out with this, we've created a custom template that you can load into Priority Matrix. Use this template to manage your projects, just like Daniel and his team.
Source: "How to Manage Projects: Delegate, Double Down, or Destroy"