If you use a calendar to organize yourself, you can load your Priority Matrix data into your favorite calendar app. This is a powerful integration with Outlook, Google Calendar, Apple Calendar, etc. The way this works is sometimes called "internet calendars", because the calendar events are shared via the internet. You can see the available calendars and enable and disable some of them. Each calendar shows you all or part of your data. When you change your Priority Matrix data, the calendar updates automatically. Subscribe to one or more of them, and always be on top of your work.
Note: If you're looking to see how to view your Priority Matrix data in calendar format, inside Priority Matrix itself, we have another article for that.
We should mention that this integration shows up as a separate calendar in your calendar app. That way, it won't interfere with your other scheduled events. It is also easy to switch off this subscription, if necessary.
What calendars can I subscribe to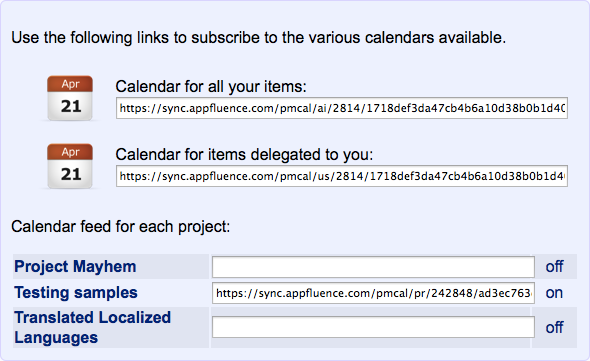 When you log in to the calendar feed page, you will notice that there are 3 types of feeds. The first two kinds are associated to your account. The third kind is associated to one individual project:
The all your items calendar includes all items in any project you own, regardless of who owns the particular item. This is the calendar most commonly used by users of Priority Matrix personal.
The delegation calendar only includes items that are owned by you. It is a subset of the previous calendar. This is more useful if you are using Priority Matrix with a team, sharing work with collaborators.
The third kind is the project calendar. There is one for each project in your account, and you can turn them on and off. Subscribe to each project separately, keeping your calendar uncluttered.
How to get links to your calendars
The first step to subscribe to a calendar is to get a link to said calendar. The instructions depend on your version of Priority Matrix:
How to subscribe to calendars
The final part depends on what actual calendar system you use. Once you have the calendar URL as explained above, use your calendar system to subscribe to that URL. Here are some basic instructions to subscribe to calendars using some popular apps:
Google Calendar (note that Google Calendar refreshes only once every 12 hours, so you might notice delays)
iOS Calendar: Go to the Settings app, then to "Mail, Contacts, Calendars", choose "Add Account", then select "Other" and finally "Add Subscribed Calendar". On that screen, paste the URL for the desired calendar. Make sure not to fill out a username and password. Also, turn on SSL connection. Note that to refresh your calendar subscription on iOS you need to:

Open Calendar app
Tap on "Calendars"
Drag down to refresh

The folks at UC Berkeley have prepared these instructions on how to make calendar subscriptions work and refresh properly with many calendar clients.
Unfortunately, both Outlook for Mac and Microsoft Entourage do not support internet calendar subscriptions (.ics). Alternatively, users of Office 365 can still use Outlook on the web to subscribe to Priority Matrix calendars.
Why does my calendar subscription not refresh
Each calendar app follows its own policy when refreshing external calendars. In our setup, we ask calendar apps to refresh every 10 minutes, but unfortunately not every app follows this recommendation. For example, Google calendar and Outlook online seem to refresh every 12 hours. Sometimes it is possible to choose the frequency. We recommend refreshing often, perhaps every few minutes.
For example, when setting up Apple Calendar, make sure you choose the refresh rate to be 5 minutes. This way your PM items should update more quickly and seamlessly:
I made changes in my calendar, but Priority Matrix didn't change
This integration with your calendar system is a one-way subscription. Your calendar app subscribes to data from Priority Matrix, in read-only mode. If there are changes to your data in Priority Matrix, they will update in your calendar, but it doesn't work the other way around. If you modify an event in your calendar, those changes will not propagate to Priority Matrix, and eventually they'll be overwritten when your calendar refreshes.
If you would like to have an experience where data flows in the opposite direction, you can consider our task connectors. Specifically, the Outlook calendar connector. Task connectors are a way for you to sync data from various 3rd party apps into Priority Matrix. Note that task connectors are not available in every deployment of Priority Matrix, if you are on a private or otherwise specialized tenant.
Reach out if you have questions
We hope you find this feature as useful as we do. If you run into any trouble, please contact our support service. We'll help you find a solution. For example, if you'd like to use a different calendar system, we are all ears!