There are 3 different types of alert notifications a user can receive:
1.) Email

2.) In Priority Matrix under "Item Details" where the Conversation Box is located
AND
3.) MAC DESKTOP: In the notifications center at the top right corner.  This will also trigger pop-ups unless the user has the pop-ups deactivated: See Link Here to Deactivate Pop-ups (https://appfluence.com/help/article/can-stop-desktop-notifications-mac/)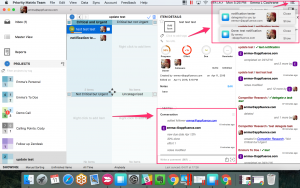 WINDOWS DESKTOP: Pop-up notification will appear in a purple box that comes from the upper right-hand corner of the screen.
The main notifications a user can receive on their DESKTOP through Email, Pop Up, AND Notification Center are as follows:
Delegate a Task to a User
Add a User to a Project
Due Dates/Reminders
Update Task in Comment Box Via Message
Update Task Via "Due Date"
Tasks Done
Reminders that are physically set in the "Item Details"
The Other DESKTOP notifications that only appear in the "Conversation" section of "Item Details" are as follows:
Add Follower
Remove Follower
Update Task Via Progress, Effort
Adjustments to the "Reminder" button by Administrator which is seen by all followers
If a user has the mobile app, on Android or iPhone, they will receive push notifications through the app unless otherwise disabled for the same alerts.  If you would like to disable your notifications, use the link provided here! Hope this helps!